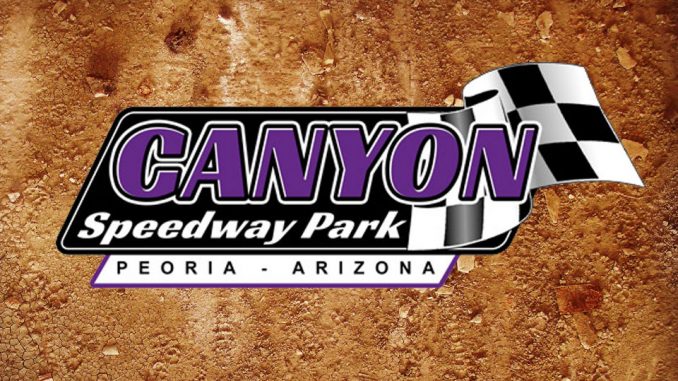 By Tony Steele
PEORIA, Ariz. (April 1) – John Parmeley pulled off the sweep in the Leading Edge IMCA Modi­fieds Saturday at Canyon Speedway Park, winning his heat race before driving from his sixth start­ing spot to take the feature win.
Parmeley declared himself as the car to beat early on, making his way around leader K.C. Dieckman and driving away from the field. Parmeley held the large advantage through numerous cautions until Jason Noll found himself behind the leader on a restart.
Parmeley and Noll escaped the fray with only a handful of laps to go to battle it out for the win. Noll made the first mistake coming to the white flag, allowing Parmeley to get away with the win. Noll held on for second with Zachary Madrid, Chaz Baca Jr. and Bubba Stafford rounding out the top five.
Speedy Madrid wound up with the Arizona Differential IMCA Northern SportMod victory after the apparent winner failed post-race tech.