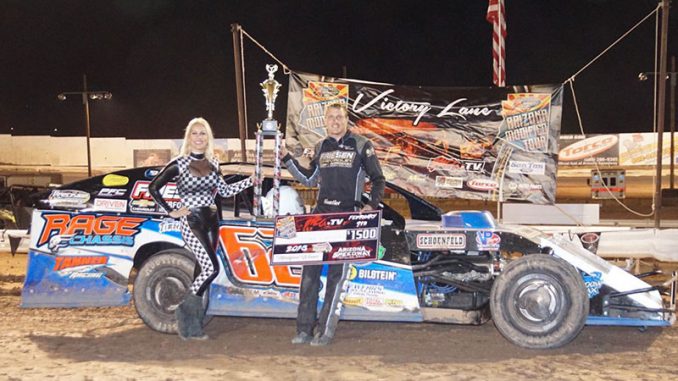 By Mike Spieker
QUEEN CREEK, Ariz. (Feb. 9) – Defending champion Hunter Marriott was the $1,500 main event winner when the highly anticipated Karl Performance Arizona IMCA Modified Tour got underway Friday at Arizona Speedway.
Eighty-eight Modifieds checked in for battle on opening night of the second annual tour.
Marriott powered from the eighth starting position to battle Jason Wolla for the lead with four laps to go. Marriott placed a bid for the lead entering turn one as he attempted a slide job on Wolla amongst lapped traffic. Contact was made between Marriott and Wolla, which sent Wolla into the outside retaining wall and Marriott over the thick cushion.
"That happens on this kind of race track," said Marriott of the pass for the lead on Wolla. "[Wolla] messed up exiting turn four and I had a run on him. I knew that would be a good shot to take the lead if I was going to win. We weren't quite clear, but it was close, though. I wasn't going to lift and I knew he wasn't going to either. If he's not too happy, that's too bad. That's just racing."
A lap 12 restart helped propel Marriott from fifth to third as he got by Casey Arneson and Cody Laney. Two laps later, Laney broke and pulled to the infield while Ricky Thornton Jr. assumed fourth.
On the final lap, Thornton wrestled the runner-up position away from O'Neil with a slide job of his own, which forced O'Neil over the cushion. By that time, however, Marriott had opened up nearly a full two-second lead.
Already on the Fast Shafts All-Star Invitational ballot, Marriott cruised to his second career tour win as Thornton, Spencer Wilson, Chaz Baca and Ethan Dotson rounded out the top five.
O'Neil and Arneson, who crossed the line third and fourth, respectively, were disqualified for covering suspension components. On the cooldown lap following the checkered flag, Wolla spun Marriott on the back stretch, which prompted a disqualification from fifth for unsportsmanlike conduct.
Ethan Braaksma drove from sixth to win the Karl Chevrolet Northern SportMod feature. Braaksma had the lead when the white flag flew but the caution forced a green, white, checkered finish. Unfazed, Braaksma pulled away from the field with Austin Howes in tow. Braaksma ran a smooth final lap to take the win by a half-second over Howes.
Feature results – 1. Hunter Marriott; 2. Ricky Thornton Jr.; 3. Spencer Wilson; 4. Chaz Baca; 5. Ethan Dotson; 6. Lucas Rodin; 7. Shawn Strand; 8. Don Earven; 9. Zachary Madrid; 10. Tim Ward; 11. Jeff Larson; 12. Tyler Mecl; 13. Lance Mari; 14. Dylan Goplen; 15. Ryan Gaylord; 16. Russell Allen; 17. John Parmeley; 18. Kody Scholpp; 19. Bobby Hogge IV; 20. Cody Laney; 21. Austin Kuehl.