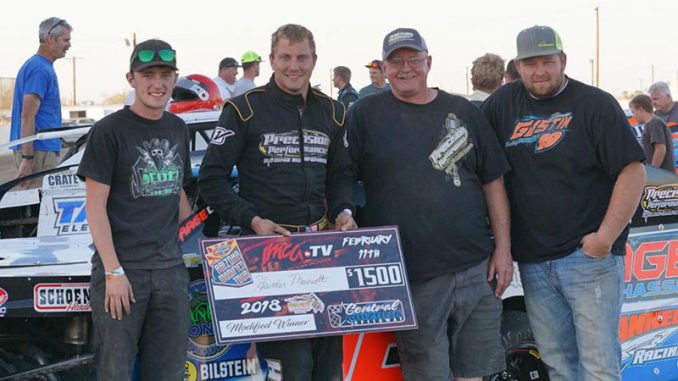 By Mike Spieker
CASA GRANDE, Ariz. (Feb. 11) – Round three of the second annual Karl Performance Arizona IMCA Modified Tour continued with a Sunday matinee at Central Arizona Speedway.
Just as he did on opening night, Hunter Marriott picked up the $1,500 feature win.
"I just had to keep hitting my marks. The checkered came out and I thought it was the yellow. I figured we had another 10 laps to go. I was just focused on keeping my speed up and not letting them get too close," said Marriott in victory lane.
Marriott, who started on the outside of the front row, grabbed the lead on the opening lap over pole sitter Chaz Baca. Casey Arneson moved into second and rode right on the rear bumper of Marriott in the early going of the 25-lap event.
By lap 10, 19th starting Ricky Thornton Jr. moved into third with a pass of Russell Allen.
With nine circuits remaining, Allen's top five effort came to an end when he and Ethan Dotson were racing for the fourth position. Dotson gave Allen a hip check entering turn one, which sent Allen up and over the embankment as the remainder of the field drove on by.
Arneson fended off Thornton to finish second, while Dotson and Ryan Gaylord rounded out the top five.
The Karl Chevrolet Northern SportMods saw a new winner as Chase Alves led all 20 trips around Central Arizona Speedway. Alves held off Brady Bjella by a half second, as Fred Ryland, Arie Schouten and Ethan Braaksma rounded out the top five.
Feature results – 1. Hunter Marriott; 2. Casey Arneson; 3. Ricky Thornton Jr.; 4. Ethan Dotson; 5. Ryan Gaylord; 6. Cody Laney; 7. Chaz Baca; 8. Shane DeVolder; 9. Tripp Gaylord; 10. Lucas Schott; 11. Greg Gustus; 12. Lance Mari; 13. Jeff Larson; 14. Kody Scholpp; 15. Zachary Madrid; 16. Riley Simmons; 17. Dylan Goplen; 18. Spencer Wilson; 19. Russell Allen; 20. D.J. Shannon; 21. Rick Spencer; 22. Ed Turnbull; 23. Marlyn Seidler; 24. Chad Andersen; 25. Rolls Royce Henry; 26. Thor Anderson.