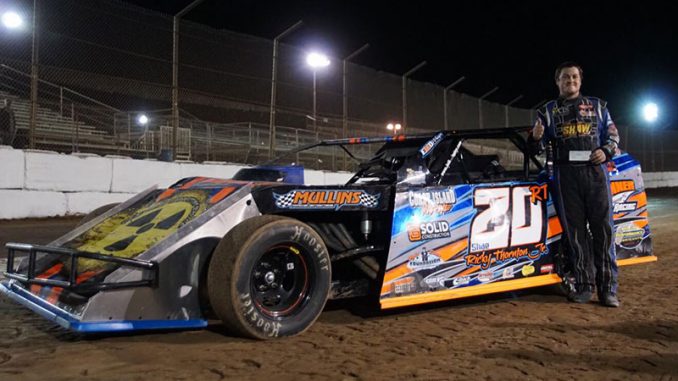 By Mike Spieker
QUEEN CREEK, Ariz. (Feb. 8) – The second annual Karl Performance Arizona IMCA Modified Tour got underway Thursday evening with practice night at Arizona Speedway. Following the night's practice session was the inaugural Dirt Dominator, a $1,000-to-win, 16-car bracket race for the IMCA Modifieds.
Chandler driver Ricky Thornton Jr. walked through the field to capture the overall victory. Thornton topped Jake O'Neil in the championship round, utilizing the inside line starting position.
"I knew it was going to be tough. Jake (O'Neil) has been really good," Thornton said from victory lane. "I picked the bottom because I only ran one lap on the top. I knew I just had to get out front and not mess up."
Thornton took the lead coming to the flag stand off turn four after taking the green flag down the backstretch. O'Neil put his no. 0 machine on the cushion but Thornton was too strong on the bot­tom and ran unchallenged en route to the victory.
Thornton defeated Delbert Shannon in the opening round before knocking off Russell Allen and Tim Ward.
With the win, Thornton Jr. is locked into the Dirt Dominator season finale, which will comprise of 16 Dirt Dominator winners throughout the season seen on IMCA.TV. The final Dirt Dominator event will boast a $10,000 check to the winner.
The Karl Performance Arizona IMCA Modified Tour officially kicks off Friday night (Feb. 9) at Ari­zona Speedway in Queen Creek as part of the Snowbird Classic, featuring the IMCA Modifieds and Karl Chevrolet IMCA Northern SportMods.
The tour heads back to Arizona Speedway on Saturday, Feb. 10 before heading to Casa Grande for a pair of events on Sunday, Feb. 11 and Monday, Feb. 12 at Central Arizona Speedway.
Tuesday, Feb. 13 will offer a practice night at Canyon Speedway Park in Peoria and will feature the $1,000-to-win King of the Hill bracket race. Racing action continues Wednesday, Feb. 14 and Thursday, Feb. 15 as a part of the Desert Classic at Canyon before race teams head to the final track, Cocopah Speedway in Somerton for a trio of shows Friday through Sunday, Feb. 16-18 during Winter Nationals.
Each night along the tour, Modified drivers will be competing for a hefty $1,500 to win top prize in Fast Shafts All-Star Invitational ballot qualifying events while Northern SportMod drivers will be racing for $600 to win.
A record 117 Modifieds and 52 Northern SportMods are pre-registered for the second annual Karl Per­formance Arizona IMCA Modified Tour.