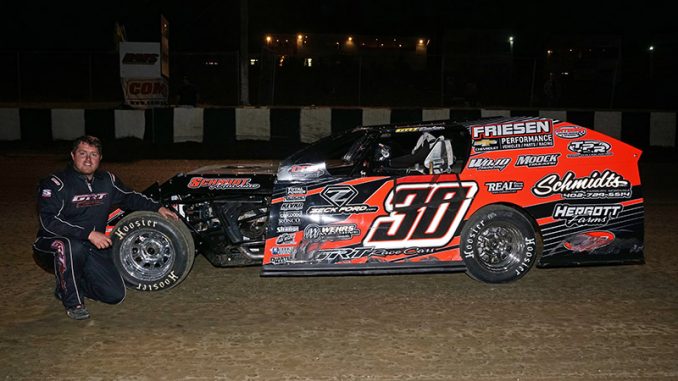 By Mike Spieker
BATESVILLE, Ark. (Sept. 29) – Jordan Grabouski captured the third and final Race For Hope 74 qualifying night feature Friday at Batesville Motor Speedway. Grabouski started fourth on the 30-car starting grid before taking the lead on lap eight.
"Sometimes when you struggle, you need to do your homework. We did our homework tonight and made a few changes on the car. The thing was a rocketship tonight," said Grabouski in vic­tory lane.
Travis Dickson took the lead on the opening lap from the outside front row starting spot. Mean­while, Grabouski moved by Chad Andersen and Brian Hartwick to claim the runner-up spot at the completion of lap one.
Seventh starting Jason Wilkey charged his way into third by lap three after driving around Ander­son.
The caution waved on lap five after Hartwick spun in turn four. Jacob Murray had nowhere to go and made heavy contact with Hartwick. Both drivers were OK.
On the restart, Dickson pushed into turn one, which allowed Grabouski to easily take the lead exiting turn two. Tyler Stevens and Chris Abelson followed Grabouski to move into second and third, respectively.
A restart on lap 17 of 25 proved to be a costly one for Stevens. Abelson and Stevens got together in turns one and two, which sent Stevens hard, head-on into the outside retaining wall to quickly bring out another caution.
As the race resumed, Tyler Droste slid into second by Abelson, while Grabouski drove away from the field.
The red flag was displayed with three laps to go when Gavin Landers got upside down on the front straightaway. Landers' machine barrel-rolled one complete revolution before coming to rest on its wheels. In the melee, 10 other drivers were involved, all of which were ok.
Grabouski left the field once again as the green flag waved for the final time as he cruised to the feature win.
Andersen, Brian Mullen, Dickson and Drew Armstrong rounded out the top five. Ricky Stephan, Wilkey and Droste were the final drivers to claim transfer spots into Saturday's main event.
The inaugural Race For Hope 74 concludes Saturday night at Batesville Motor Speedway, featur­ing the $20,000 to win, 74-lap main event, a qualifier for the 2018 Fast Shafts All-Star Invitational ballot. Racing starts at 7:30 p.m.