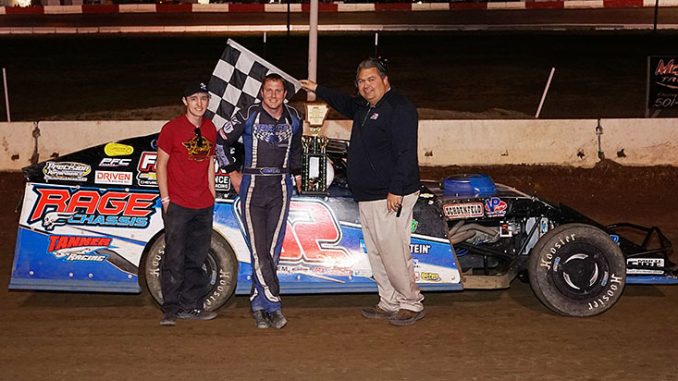 BATESVILLE, Ark. (March 23-24) – A first-time visitor and a regular at Batesville Motor Speed­way both raced their way to victory lane during the Arkansas Spring Nationals.
Hunter Marriott topped Friday's IMCA Modified feature while Jeff Taylor went from last on open­ing night to first in the Saturday show.
Both features paid $1,500 to win and both Marriott and Taylor were already on the ballot for the Fast Shafts All-Star Invitational.
Marriott started opening night from outside the front row and led the distance, pulling away from everybody en route to his eight Fast Shafts ballot qualifying victory already this season and 11th since last August.
After running in lapped traffic much of the way, Marriott won ahead of Tyler Stevens, Peyton Tay­lor, Jeff James and Mark Norris.
"We were getting ready to race and decided on Thursday to go to Batesville," Marriott said. "We went down there to learn and had a pretty good weekend."
Jeff Taylor, a double winner at Spring Nationals each of the last two years, started on the pole, held off Norris early and led all 30 laps in topping the Saturday show.
"We had a top three or top five car Friday but we were in the wrong place at the wrong time in our heat and in the feature," he said. "We worked all day Saturday fixing the front end."
"I enjoy winning at home," Taylor added. "It's fun to race here."
Norris, Marriott, Stevens and James completed the top five.
Feature Results
March 23 – 1. Hunter Marriott; 2. Tyler Stevens; 3. Peyton Taylor; 4. Jeff James; 5. Mark Norris; 6. Kelly Shryock; 7. Mike Hansen; 8. Brint Hartwick; 9. Randy Weaver; 10. Drew Armstrong; 11. Wayne Brooks; 12. Kayden Menasco; 13. Tyson Franks; 14. Donnie Barnhart; 15. J.T. Goodson; 16. Keith Hammett; 17. David Baser; 18. Brandon Smith; 19. Ken Schrader; 20. Ricky Thornton Jr.; 21. Chad Melton; 22. Rick Engles Jr.; 23. Travis Mosley; 24. Jeff Taylor.
March 24 – 1. Jeff Taylor; 2. Mark Norris; 3. Marriott; 4. Stevens; 5. James; 6. Shryock; 7. Peyton Tay­lor; 8. Bill Frye; 9. Robbie Arnold; 10. Smith; 11. Madison Holloway; 12. Brooks; 13. Clay Nor­ris; 14. Menasco; 15. Mosley; 16. Chadd Avey; 17. Franks; 18. Hansen; 19. Hammett; 20. Jon Sheets; 21. Barnhart; 22. Richie Tosh; 23. Hartwick; 24. Schrader.