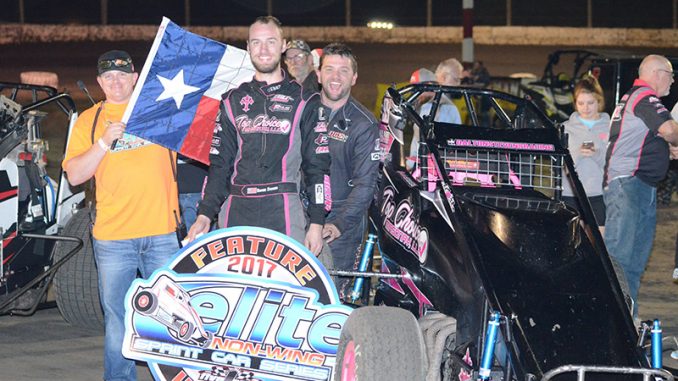 MESQUITE, Texas (May 5) – With the difference between first place and second decided by about a foot, the second annual Johnny Suggs Classic lived up to its pre-race billing as a "clas­sic."
Dalton Stevens raced from 12th starting to beat John Ricketts in the Friday night Elite Non-Wing Sprint Series main event at RPM Speedway.
The front pair ran side-by-side the last two laps following a late restart. Stevens eked just ahead on the lower line for his second IMCA RaceSaver Sprint Car win of the season and career-first Elite checkers.
"I just had to be patient and capitalize whenever I had the opportunity," said Stevens, who caught and passed Paul White and Ricketts for the lead after midway in the $800 to win 20-lapper. "Early on I ran the high side. Later on I shifted to the bottom to work the leaders."
While Stevens used restarts to his advantage in working his way to the front of the field, the final caution of the contest almost led to disaster.
Ricketts was throwing everything but the kitchen sink at the leader, who almost lost the handle but recovered and held on for the oh-so-close win.
White, Justin Zimmerman and Michelle Melton completed the top five behind Stevens, in the Top Choice Masonry, Allard Racing Engines, Eagle Powder Coating & Fabrication and Pulse Innova­tions ride.
Feature results – 1. Dalton Stevens; 2. John Ricketts; 3. Paul White; 4. Justin Zimmerman; 5. Michelle Melton; 6. Johnny Miller; 7. Nathan Moore; 8. Jake Bland; 9. Blake Moore; 10. Blake Bac­cus; 11. Chris Clark; 12. J.D. Fry; 13. Chase Parson; 14. Ryan Hall; 15. Justin Fifield; 16. Kevin Reed; 17. Robert Vetter; 18. Raven Culp; 19. Marcus Thomas; 20. Sam Stockton; 21. Steve Mackin; 22. Richard Miller; 23. Randy Henderson.