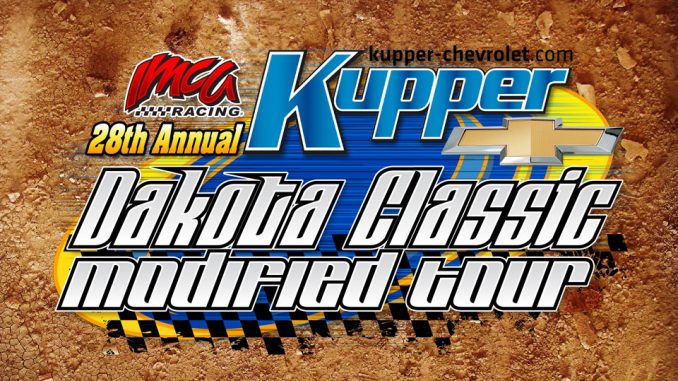 JAMESTOWN, N.D. – Feature winners on all six nights of the biggest series for IMCA Modifieds will get bigger checks.
Kupper Chevrolet Dakota Classic Tour main events will pay $2,300, a minimum of $300 to start, and are qualifying events for the upcoming Fast Shafts All-Star Invitational ballot.
Opening night for the North Dakota-based tour is Saturday, July 8 at Jamestown Speedway.
The tour travels to Nodak Speedway in Minot, on July 9, Estevan, Sask., Motor Speedway on July 10, Williston Basin Speedway on July 11, Southwest Speedway in Dickinson on July 12 and Da­cotah Speedway at Mandan on July 13.
IMCA Sunoco Stock Cars race for $800 to win and a minimum of $125 to start each night of the 28th annual tour.
"We have set new average car count records of 90-plus Modifieds a night each of the last two years," said Tour Director John Gartner. "We have also expanded the starting field to 30 cars, up two from last year."
"The record numbers we've seen as this tour continues to grow more than validate the higher pay­out and starting additional cars in the main event," he continued. "We've enjoyed the support of many of the best IMCA Modified drivers from across the country and Canada and welcome every opportunity to give back to them."
Title sponsor Kupper Chevrolet provides tour point funds of $2,000 for the Modifieds and $1,000 for the Stock Cars. Drivers in both divisions also earn contingency awards from numerous IMCA and local sponsors.
IMCA Speedway Motors Weekly Racing National, Side Biter Chassis North Central or EQ Cylin­der Heads Northern Region, and Allstar Performance State points will be awarded at each draw/redraw show.
Modified and Stock Car drivers can go to the www.dakotamodtour.com website beginning Thursday, June 1 to pre-register. A Modified past champion's provisional will be given on opening night while pre-registered drivers only will be eligible for single high points provisionals each of the next five nights.
Modified drivers are also required to compete at a minimum of three tour events to become eligi­ble to qualify for the $10,002 to win Corral Sales Legendary 50 on Friday, July 14 at Dacotah Speed­way.
All six Dakota Tour events as well as The Legendary will be broadcast by IMCATV with a daily or yearly subscription (to subscribe visit www.imca.tv). Highlights will be featured on the IMCA Racing Rewind and the Dirt Knights documentary series via cable channel MAVTV at a later date to be announced.
Also to be announced are details regarding the $2,000 IMCATV Open Trailer bonus.
Flagman for the week will be Dale McEwen and IMCA rules and procedures will be in effect at each venue. Transponders and RACEceivers are required in both divisions.
More information about the tour is available from Gartner at 701 202-6075.