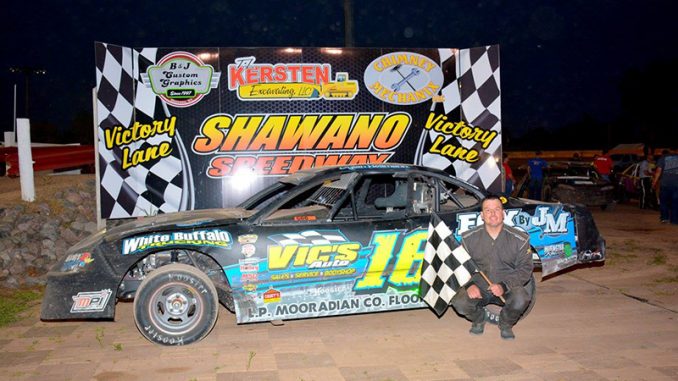 By Scott Owen
SHAWANO, Wis. (June 18) – Jeremy Christians bested an all-star field that included three former na­tional champions, two Super National winners and numerous track champions to take home the $1,000 IMCA Sunoco Stock Car check Saturday at Shawano Speedway.
Christians, the 2010 champion at Super Nationals, held Brandon Czarapata at bay to win the Stock Car Shootout. Joe White, Travis Van Straten and Kyle Frederick rounded out the top five.
White grabbed the lead on the opening lap and quickly received pressure from defending national champion Van Straten, while Frederick raced past Christians and into third by lap four.
The battle between White and Van Straten allowed Frederick to catch the lead duo. On lap eight, Van Straten lost the handle in the middle of turns three and four but instead of stopping and bring­ing out a caution he stayed on the throttle and kept going. The incident dropped Van Straten back to ninth on the track and cost him a considerable amount of distance to the leaders.
Frederick was now the chief challenger to White, while Christians ran third, Czarapata fourth and Rod Snellenberger fifth. Lap after lap, White and Frederick toured the track virtually glued to­gether.
A caution on lap 13 bunched the field up with the all-star collection of White, Frederick, Christians, Czarapata, Snellenberger and Van Straten restarting in the top six positions.
On the restart, Christians pulled to the inside of White and Frederick joined them running three wide for the lead through turn four. White and Frederick made contact as Christians pulled ahead to take the lead.
Christians continued to lead while White and Frederick gave chase. Czarapata passed Frederick on lap 22 to move into third. With the race seemingly in hand for Christians, another caution came out after lap 23, setting up a two-lap dash to the finish.
Christians was not to be denied though as he scored the win ahead of Czarapata and took home the $1,000 top prize.