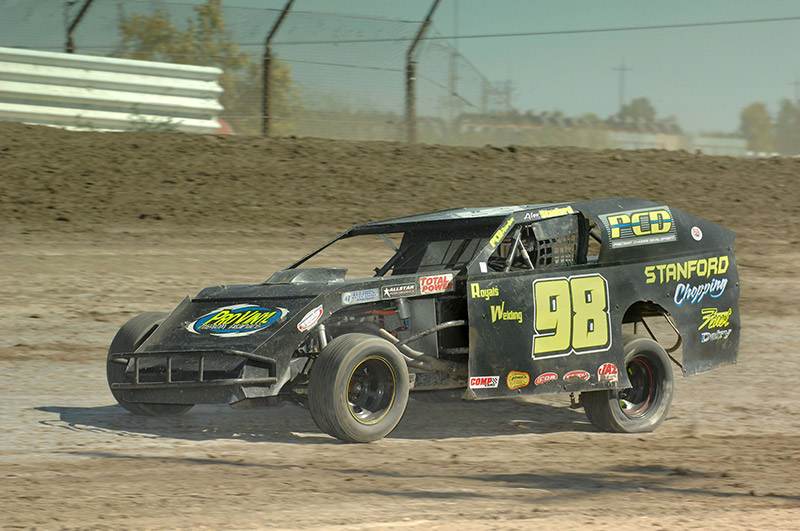 By Ben Deatherage
LEBANON, Ore. (June 19) – The outcome was decided by all of .017 of a second Friday night as defending Wild West Modified Shootout champion Alex Stanford continued his tour success at Willamette Speedway.
Ryan Gaylord led most of the way in the Xtreme Motor Sports IMCA Modified main event before Stanford moved from the middle to the higher line.
The front pair came out of the final turn door handle to door handle. Stanford eked just inches ahead to take the $1,000 victory,
The Shootout victory was his first this season, Stanford's tour career sixth and fourth straight win at Willamette during Speedweek competition in a streak dating from 2013.
Jesse Williamson, hard charger Jeremy Shank and Collen Winebarger completed the top five. Stanford was already on the ballot for the upcoming Fast Shafts All-Star Invitational.
Winebarger raced his way back through the field after spinning out of the lead on lap four. Gay­lord inherited the point and stayed in front through two restarts, for debris on laps seven and 28, before Stanford's late heroics.
Forty-three cars representing Oregon, Washington, California, Nevada, Arizona, Colorado, Mon­tana, North Dakota and British Columbia were signed in for the sixth of seven Speedweek events.
Feature – 1. Alex Stanford; 2. Ryan Gaylord; 3. Jesse Williamson; 4. Jeremy Shank; 5. Collen Winebarger; 6. Troy Heupel; 7. B.J. Wild; 8. Travis Peery; 9. Jon DeBenedetti; 10. Jerry Schram; 11. Nick Trenchard; 12. Monte Bischoff; 13. Craig Cassell; 14. Mark Wauge; 15. Joey Price; 16. Danny Lauer; 17. Scott Lenz; 18. Troy Foulger; 19. Dustin Cady; 20. Shawn Natenstedt.