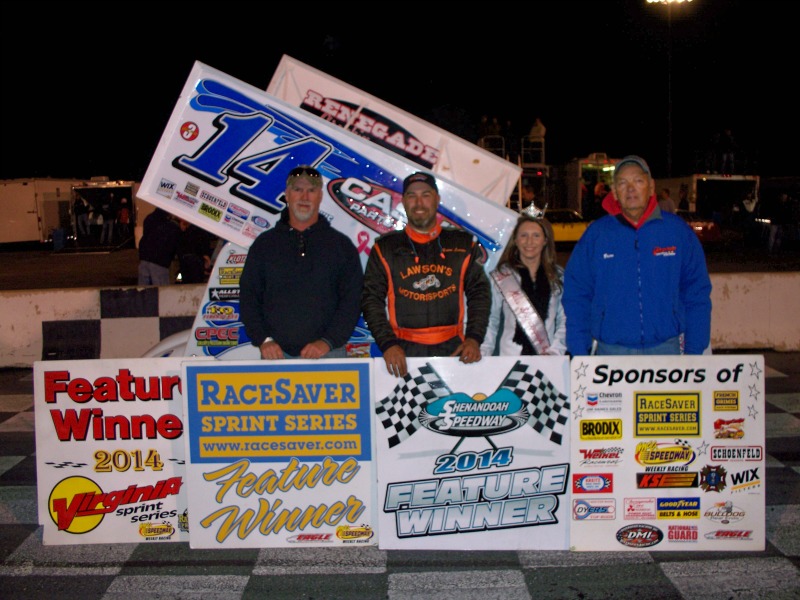 By Jim Haines
SHENANDOAH, Va. (Oct. 4) – Brian Lawson used a high line move to take over the top spot and hold on for his third Virginia Sprint Series win of the year Saturday evening at Shenandoah Speedway.
Chris Ware and Anthony Linkenhoker paced the IMCA Eagle Motorsports RaceSaver Sprint Car field with Linkenhoker out first and looking strong.
Lawson showed speed early, getting around Ware and setting his sights on Linkenhoker. Laps clicked away with Jerald Harris and Tony Harris joining top four.
Lap 12 was a rough one for French Grimes as debris cut his right front tire, causing him to pound the concrete wall in turn one. Linkenhoker took off following the ensuing restart but Lawson got going a little better was around to top side and into the lead on the next circuit.
Jerald Harris moved in as Tony Harris faded. Jerald Harris made his way to second and with five to go and the fight at the front was on. He tried every line from top to bottom but Lawson refused to give up the fast groove and held on for the checkers.
Tom Humphries, Linkenhoker and Ryan Price completed the top five.
Lawson's first VSS win of the season also came at Shenandoah, on May 3.
Feature results – 1. Brian Lawson; 2. Jerald Harris; 3. Tom Humphries; 4. Anthony Linkenhoker; 5. Ryan Price; 6. Chris Ware; 7. Carl Simmonds; 8. Charlie Ware; 9. Tony Harris; 10. French Grimes; 11. Billy Norfleet.