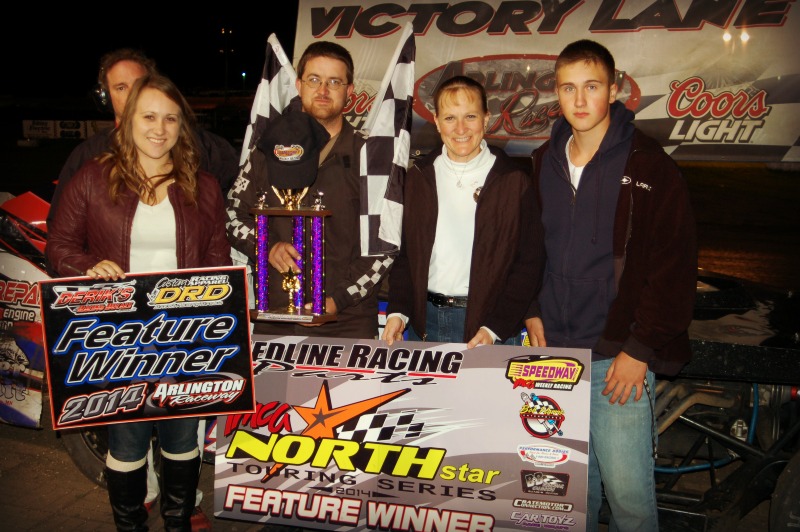 ARLINGTON, Minn. (Sept 13) – Six drivers won IMCA special events features Saturday at Arlington Raceway.
Redline Racing Parts North Star Series victories went to Brandon Beckendorf in the IMCA Xtreme Motor Sports Modifieds, Dan Mackenthun in the IMCA Sunoco Stock Cars, Eric Larson in the Karl Chevrolet Northern SportMods, Justin Luinenburg in the IMCA Sunoco Hobby Stocks and Nate Coopman in the Mach-1 Sport Compacts.
Clint Benson made another long tow from Nebraska pay off with the RaceSaver Sprint Series of Minnesota triumph.
Chad Porter had the early lead in the Modified feature but on the fifth lap, Beckendorf got around him and led the remaining 15 laps. The tour win was his second straight and career sixth, matching Beckendorf with Eric Dailey for the all-time lead in the division.
Curt Lund was a distant second and Jerry Wren took third. The Modified main was also the Jeff Rucks Memorial.
Mackenthun led from start to finish in the Stock Car headliner with Matt Schauer right behind and Jeff McCollum third. Three of Mackenthun's five career North Star wins have come this season.
First-time tour winner Larson found his way to victory lane following a Northern SportMod feature cut short due to time constraints.
After a multi-car mishap on the first lap, Larson led to the checkers. Tim Bergeson and Chris Isaacson completed the top three.
Despite being called for jumping on the original start and moving back two spots, Luinenburg rallied to take home the Hobby Stock hardware.
Cory Probst led the first five laps from his third row start. Probst and Luinenburg traded spots back and forth for the duration of the race but over the final five circuits Luinenburg had the edge on Probst and took the win. Third went to Jeremy Songer.
There were three different leaders in the Sport Compact feature but for the eighth time in nine events this year Coopman prevailed. Joe Regner led nine laps and tried diligently to stay in front but Coopman got around him with two laps left. Jed Trebelhorn ran third.
Trevor Serbus led the first 13 laps of the feature for IMCA Eagle Motorsports RaceSaver Sprint Cars but Benson took advantage of a lap 14 restart.
He passed Serbus and went on to the win. Michael Stien was third.
The 20 entries were the most for a Sport Compact feature in North Star Series history. Total car count for the night was 149.
Feature Results
Modifieds – 1. Brandon Beckendorf; 2. Curt Lund; 3. Jerry Wren; 4. Tyler Limoges; 5. Clint Hatlestad; 6. Roger Nielsen; 7. Nate Zimmerman; 8. Michael Fogelman; 9. Jason Helmbrecht; 10. Nick Helmbrecht; 11. Dalton Magers; 12. Jesse Rogotzke; 13. Paul Burger; 14. Chad Porter; 15. Jeff Coon; 16. Fred Heidecker.
Stock Cars – 1. Dan Mackenthun; 2. Matt Schauer; 3. Jeff McCollum; 4. Brent Reierson; 5. Kenneth Tietz; 6. Dean Nething; 7. Matt Speckman; 8. Shane Bruns; 9. David Moriarty; 10. Jerry Coopman; 11. Brent Uecker; 12. Chris Meyer; 13. Jesse Anderson; 14. Dan Dhaene; 15. John Polifka; 16. Travis Schurmann; 17. Daniel Eckblad.
Northern SportMods – 1. Eric Larson; 2. Tim Bergerson; 3. Chris Isaacson; 4. Larry Revier; 5. John Albrecht; 6. Tom Malchow Jr.; 7. Matthew Looft; 8. Charlie Rustman; 9. Ben Chukuske; 10. Dustin Engelke; 11. Nathan Chukuske; 12. Cole Ignaszewski; 13. Tony Rialson; 14. Shawn Harms; 15. Tiffany Maus; 16. Jeremy Brown; 17. Tim Esser; 18. Paul Konakowitz; 19. Joe Maas; 20. Josh Larsen; 21. Adam Revier; 22. Dan Milbradt.
Hobby Stocks – 1. Justin Luinenburg; 2. Cory Probst; 3. Jeremy Songer; 4. Brian Loscheider; 5. Rodney Manthey; 6. Kevin LaTour; 7. Matt Olson; 8. Lee Fetchenhier; 9. Tim Heidecker; 10. Chad Taylor; 11. Jeremy Ziemke; 12. Dakota Robinson; 13. Wes Jahnz; 14. Ryan Grochow; 15. Allen Fetchenhier; 16. Patrick Oestreich; 17. Sarah Voss; 18. Kristin Voss; 19. Neil Forsberg; 20. Shane Honl; 21. Nathan Gegner; 22. Jessie Johnson; 23. Todd Sievert; 24. Brad Strauss; 25. Mike Vogt.
Sport Compacts – 1. Nate Coopman; 2. Joe Regnar; 3. Jed Trebelhorn; 4. Eric Ladner; 5. Kyren Porter; 6. Stephanie Forsberg; 7. Ben Wilhelmi; 8. Scott Espey; 9. Dan Knish; 10. Robert Rutt; 11. Joe Bunkofske; 12. Kyle Ewert; 13. Blake Braunworth; 14. Dylan Braunworth; 15. Megan Voss; 16. Alan Lahr; 17. Ashelyn Moriarty; 18. Robby Severson; 19. Tyler Archer; 20. Todd Tacheny.
Sprint Cars – 1. Clint Benson; 2. Trevor Serbus; 3. Michael Stien; 4. Brandon Allen; 5. Jeremy Schultz; 6. Bruce Allen; 7. Mike Sargent; 8. Dustin Sargent; 9. Dalyn Cody; 10. Jordan Wilmes; 11. Brett Allen; 12. Victoria Knutson; 13. Ron Guentzel; 14. Jesse Cripe.