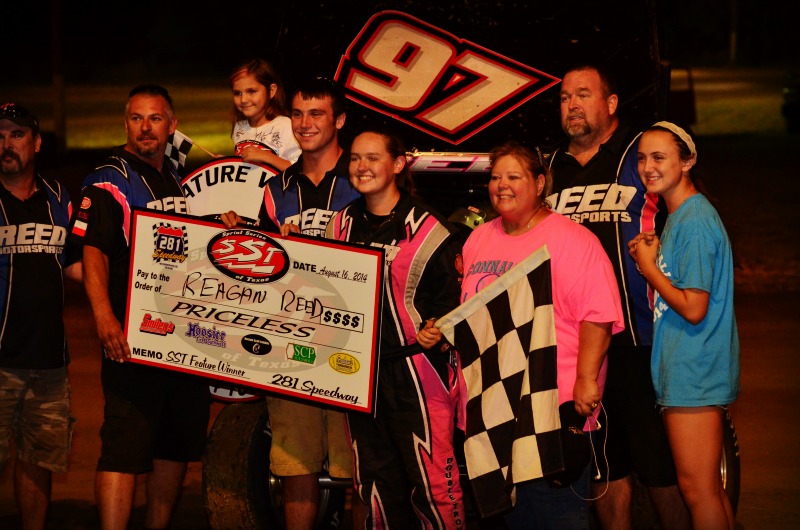 STEPHENVILLE, Texas (Aug. 16) – Reagan Reed raced to a couple of firsts Saturday night at 281 Speedway.
And she had to regain the lead from a former national champion to accomplish both feats.
The 16-year-old junior-to-be at Waco's Connally High School earned her career first IMCA Eagle Motor­sports RaceSaver Sprint Car feature win at Stephenville.
She became the first female driver to win a Sprint Series of Texas main event as well.
"I couldn't believe it," admitted Reed. "I was excited for my dad and my crew and wished my brother (who was racing in Michigan) could have been there to see it."
Reed campaigned five seasons in the mini-sprints. She had just nine starts under her belt during her rookie Sprint Car season before getting the Saturday win.
After starting the 20-lapper from outside the front row, she made the most of the fast lower line and pulled away from the rest of the veteran-laden pack by midway.
Jason Howell made up ground when lapped traffic slowed Reed, finally catching her on the white flag circuit and pulling again as the pair ran down the backstretch.
Lapped cars came into play again on the final set of turns. Howell stayed high, while Reed went slow and took the checkers by a car length.
Feature results – 1. Reagan Reed; 2. Jason Howell; 3. Drew Wright; 4. Craig Woods; 5. Gary Kelley; 6. Ronnie Henderson; 7. Jerry Hammock; 8. Rodney Henderson; 9. Joey Starnes; 10. Danny Merrell; 11. David Garland; 12. Kerry Rush; 13. Johnny Suggs; 14. Matt Etzelmiller; 15. Dustin Woods; 16. Ed Keaton; 17. David Munden; 18. Bud Hanna; 19. Mark Klis; 20. Kenny Venable.