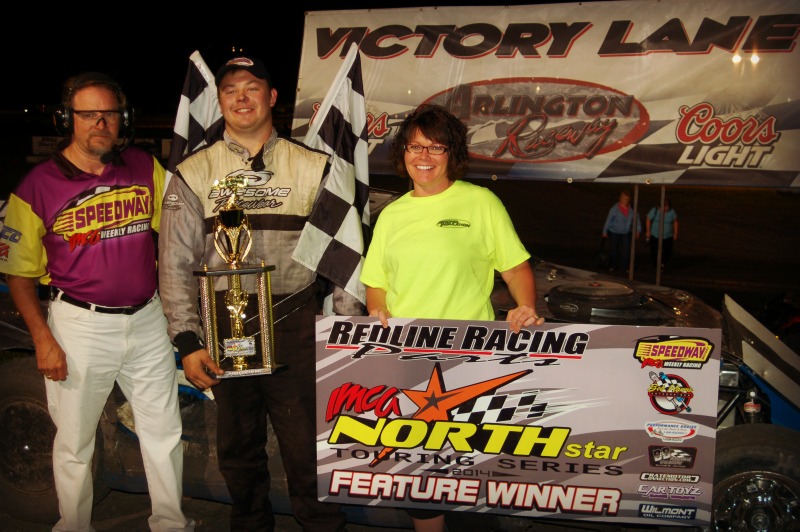 ARLINGTON, Minn. (Aug. 9) – Defending IMCA Xtreme Motor Sports Modified champion Bran­don Beckendorf got his first win of the 2014 Redline Racing Parts North Star Series Saturday at Arlington Raceway.
Jeff Coon led the first 16 laps before a caution brought the field back together. On the restart, Becken­dorf dove in and took the lead away with Dan Menk right behind him. Coon then went into the pit area with a flat tire.
Beckendorf led the remaining five laps with Menk on his tail and Curt Lund moving up from his 14th place start to challenge but ultimately settling for third. The victory was Beckendorf's series career fifth.
Gary Mattison drew pole and led the first three laps of the IMCA Sunoco Stock Car main before giving way to Dan Mackenthun.
Mackenthun in turn was challenged by Jeff McCollum and Jim Larson but held off both drivers the rest of the distance for his second series win of the season and career fourth checkers.
Adam Revier led all but the lap that counted most in the Karl Chevrolet Northern SportMod main, as his engine gave out coming to the checkered flag and allowing Matt Looft to pass him for the win.
Looft, the defending champion, got win number two on the season and his career sixth ahead of Chris Isaacson and Revier.
Jamie Songer led the IMCA Sunoco Hobby Stock main from start to finish for his second checkers in the last three series outings. Justin Luinenburg challenged the last five laps but set­tled for second ahead of Tim Heidecker.
Nate Coopman, another 2013 series king, dominated again in the Mach-1 Sport Compact feature as he took the lead on the first lap. Second in the 19-car field was Joe Regner and Alan Lahr was third.
Coopman owns seven North Star Series wins this season and 20 for his career.
Dustin Sargent led the IMCA Eagle Motorsports RaceSaver Sprint Car feature in a green to check­ered race for his career first feature win.
Feature Results
Modifieds – 1. Brandon Beckendorf; 2. Dan Menk; 3. Curt Lund; 4. Todd Stinehart; 5. Jerry Wren; 6. Tyler Limoges; 7. Greg Jacobsen; 8. Tim Pessek; 9. Jason Helmbrecht; 10. Nick Helmbrecht; 11. Dalton Magers; 12. Jeff Larson; 13. Brent Reierson; 14. Josh Rogotzke; 15. Chad Porter; 16. Jeff Coon; 17. Fred Heidecker; 18. Trent Loverude.
Stock Cars – 1. Dan Mackenthun; 2. Jeff McCollum; 3. Jim Larson; 4. Gary Mattison; 5. David Moriarty; 6. Chris Meyer; 7. Matthew Schauer; 8. Matt Speckman; 9. Dean Cornelius; 10. Brad Lange; 11. Dan Dhaene; 12. John Polifka; 13. Dean Nething; 14. Daniel Eckblad; 15. Michael Bruns; 16. Jeff Holstein; 17. Shaun Bruns; 18. Mark Munsterman; 19. Chuck Winter.
Northern SportMods – 1. Matthew Looft; 2. Chris Isaacson; 3. Adam Revier; 4. Adam Voss; 5. Josh Larsen; 6. Larry Revier; 7. Dustin Engelke; 8. Justin Remus; 9. Tim Bergerson; 10. Paul Konako­witz; 11. Shawn Harms; 12. Bruce Egeland; 13. Tiffany Maus; 14. Jeremy Brown; 15. Chet Ragan; 16. Zack Malchow; 17. Zach Schultz; 18. Eric Larson; 19. Travis Schurmann.
Hobby Stocks – 1. Jamie Songer; 2. Justin Luinenburg; 3. Tim Heidecker; 4. Cory Probst; 5. Josh Telecky; 6. Eric Gillette; 7. Matt Olson; 8. Kevin LaTour; 9. Brian Loscheider; 10. Austin Jahnz; 11. Jeremy Ziemke; 12. Shane Honl; 13. Wes Jahnz; 14. Logan Kelly; 15. Ben Petersen; 16. Sarah Voss; 17. Allen Fetchenhier; 18. Kristin Voss; 19. Rodney Manthey; 20. Nate Mander­field; 21. Mike Vogt; 22. Terry Oestreich; 23. Patrick Oestreich.
Sport Compacts – 1. Nate Coopman; 2. Joe Regnar; 3. Alan Lahr; 4. Eric Ladner; 5. Kyren Por­ter; 6. Stephanie Forsberg; 7. Jed Trebelhorn; 8. Kyle Ewert; 9. Ben Wilhelmi; 10. Ashelyn Mori­arty; 11. Terry Blowers; 12. Joe Bunkofske; 13. Robby Severson; 14. Blake Braunworth; 15. Me­gan Voss; 16. Chase Brocker; 17. Robert Rutt; 18. Jordan Rogotzke; 19. Dylan Braunworth.