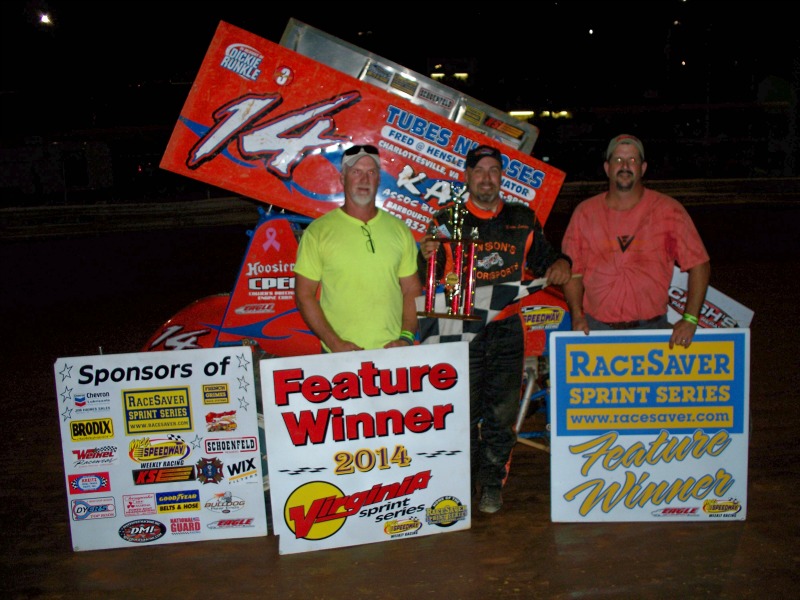 By Jim Haines
NATURAL BRIDGE, Va. (July 26) – It's been a long road for Brian Lawson after winning a Virginia Sprint Series pavement race early in the season but it all came good again on the red clay at Natural Bridge Speedway.
Lawson topped Saturday night's IMCA Eagle Motorsports RaceSaver Sprint Car main event with a strong dash to the checkers that carried him across the stripe in front of Ryan Price.
Chris Ware and Eliah Omwake paced the field to green with Omwake up high and wide open. The high line was working for him as he streaked away. Glenn Worrell made a move on Ware and took off after Omwake as the non-stop feature clicked away.
Omwake was flying while Worrell had to deal with Ryan Price and Lawson. Lawson got to second and was reeling in Omwake after midway.
Traffic was helping Lawson as his car was better down low and he swept into the lead with six to go. Price was also looking smooth as he got by Omwake for second.
Price tried everything to close in but it was Lawson's night as he flashed under the checkered flag with a few car lengths to spare.
Feature results – 1. Brian Lawson; 2. Ryan Price; 3. Eliah Omwake; 4. Anthony Linkenhoker; 5. Jerald Harris; 6. Tom Humphries; 7. Glenn Worrell; 8. French Grimes; 9. Troy Severin; 10. Chris Ware; 11. Carl Simmons; 12. Charlie Ware; 13. Kevin Fletcher; 14. J.D. Coats; 15. Micheal Keeton.