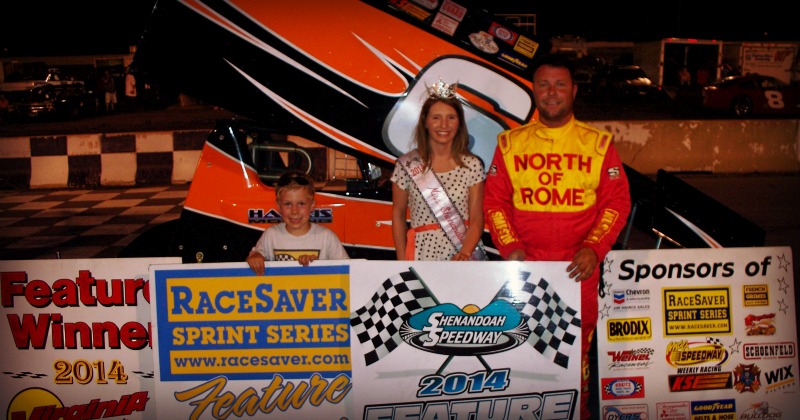 By Jim Haines
SHENANDOAH, Va. (July 12) – Jerald Harris turned a good run in to a great finish as storms danced all around Shenandoah Speedway Saturday night.
Harris won his fourth Virginia Sprint Series feature of the season. Three of those IMCA Eagle Motorsports RaceSaver Sprint Car victories have now come on the Shenandoah asphalt oval.
Chris Ware and Charlie Ware paced the field to the green before Charlie Ware took off and brought Tony Harris along.
Harris got by on lap four and did his best to run away from the rest of the field but Tom Humphries, Harris and French Grimes were on a march to the front.
The battle for second between Humphries and Harris ended right after halfway when Humphries rolled into the infield. With five to go, Harris had a great run go bad as his right rear tire was wearing out and starting to vibrate.
With just four to go he had to slow to make it to the end. Harris and Grimes drove by, with Anthony Linkenhoker following suit.
No one had the laps to catch Harris as he crossed the finish line ahead of Grimes and Linkenhoker.
Feature results – 1. Jerald Harris; 2. French Grimes; 3. Anthony Linkenhoker; 4. Tony Harris; 5. Charlie Ware; 6. Chris Ware; 7. Carl Simmons; 8. Ron Moyers; 9. Tom Humphries. 10. Brian Lawson.