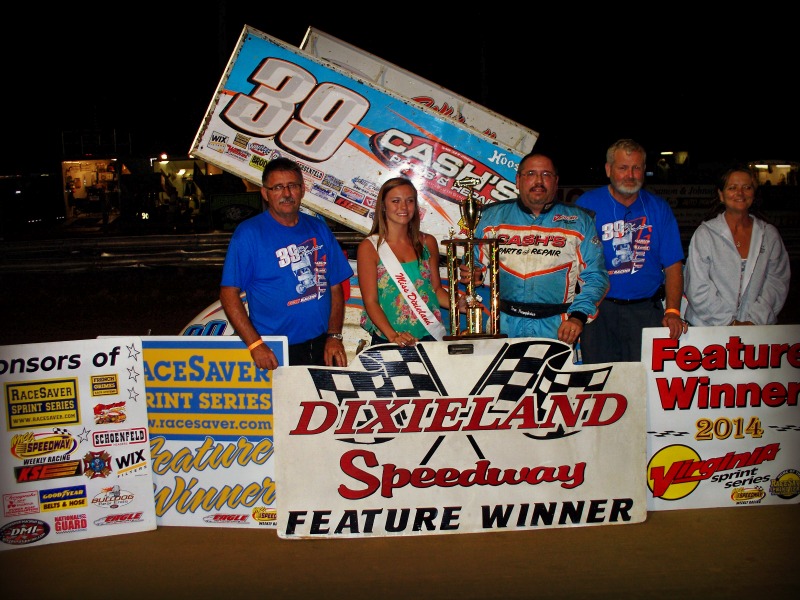 By Jim Haines
ELIZABETH CITY, N.C. (June 27) – Tom Humphries took the win at the first of two Virginia Sprint Series visits to Dixieland Speedway Friday night, holding off Jerald Harris and Glenn Worrell.
The IMCA RaceSaver Sprint Car tour victory was Humphries second straight and third in seven series events so far this season.
Charlie Ware and Chris Ware paced the field as the green waved with Charlie Ware taking off bringing Worrell along. The two were glued together until Worrell got by on lap four and Charlie was left to deal with the closing pack.
Worrell was leading when a quick yellow waved at halfway with Humphries and Harris right be­hind. Worrell took off and stayed fast but Humphries was on the attack, chopping high and low lap af­ter lap until he and Harris both got by with six laps to go.
Humphries stayed out front with Harris right behind. Worrell, Troy Severin and Anthony Linkenhoker completed the top five.
Eastside Speedway will be closed for the upcoming holiday weekend so the next series race will be a pavement show at Shenandoah, Va., Speedway on Saturday July 12.
Feature results – 1. Tom Humphries; 2. Jerald Harris; 3. Glenn Worrell; 4. Troy Severin; 5. An­thony Linkenhoker; 6. French Grimes; 7. Tony Harris; 8. Charlie Ware; 9. Carl Simmons; 10. Chris Ware; 11. Eliah Omwake; 12. Kevin Fletcher; 13. Mattie Feldman; 14. Brian Lawson; 15. Chad Worrell.