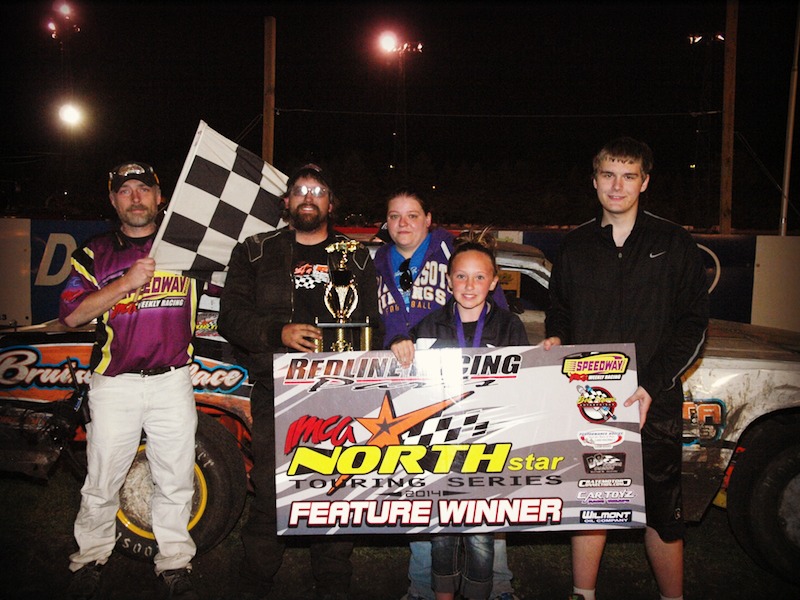 SLAYTON, Minn. (June 13) – Gary Mattison raced better on the track than he drew for position.
As a result, he drove away from the IMCA Sunoco Stock Car field for his career-first Redline Rac­ing Parts North Star Series feature win Friday night at Murray County Speedway.
Mattison started 10th and caught defending champion Jim Larson and Matt Speckman after half­way for the lead and the eventual victory.
"I went to the high side to pass," Mattison said. "The car was good and I just tried to be patient."
Larson ended in second. Hard charger Jake Masters moved up 10 spots to third, Speckman was fourth and Jake Bruns completed the top five.
Jay Noteboom had better luck with the draw, getting the pole and leading all 20 laps of the IMCA Xtreme Motor Sports Modified main event.
He pulled away following a late restart to win by four car lengths ahead of Jeff Larson.
Curt Lund passed a dozen cars and finished third; Dustin Larson moved up eight spots from his original place on the starting grid for fourth and Brandon Beckendorf was fifth. Tyler Limoges also passed 12 cars and took sixth.
Tour feature wins were the second in six days for Nick Johansen in the Karl Chevrolet Northern SportMods and Justin Luinenburg in the IMCA Sunoco Hobby Stocks, while Nate Coopman pre­vailed for the fourth time in as many Mach-1 Sport Compact series outings.
Johansen also made use of the higher line in racing from fourth starting to the lead on the second lap of the SportMod main, which was cut short by the time limit.
Aaron Krohn, Nick Dieter, Matt Looft and hard charger Tony Rialson rounded out the top five. Ri­alson passed nine cars.
Jamie Songer came up from 12th starting to run side-by-side with Luinenburg on the final lap of a Hobby Stock feature that also saw it's share of cautions.
Luinenburg found the better grip he needed higher up to lead Songer, Cory Probst, Matt Hanson and Mark Janssen across the stripe.
Coopman drew the pole and sped to his career 17th North Star Sport Compact checkers ahead of Stephanie Forsberg and Neil Forsberg.
Feature Results
Modifieds – 1. Jay Noteboom; 2. Jeff Larson; 3. Curt Lund; 4. Dustin Larson; 5. Brandon Becken­dorf; 6. Tyler Limoges; 7. Josh Rogotzke; 8. Mat Hollerich; 9. Justin Anderson; 10. Jeff Maasch; 11. Greg Jacobsen; 12. Josh Bonnstetter; 13. Randy Klein; 14. Dalton Magers; 15. Josh Meyer; 16. Jason Fisher; 17. Jerry Wren; 18. Warren Van Weston.
Stock Cars – 1. Gary Mattison; 2. Jim Larson; 3. Jake Masters; 4. Matt Speckman; 5. Jake Bruns; 6. Jon Schmidt; 7. Kevin DeBaere; 8. Roger Verdoorn; 9. Brad Scheibel; 10. Shaun Mad­den; 11. Dean Nething; 12. David Reisdorfer; 13. Jim Gregoire.
Northern SportMods – 1. Nick Johansen; 2. Aaron Krohn; 3. Nick Dieter; 4. Matt Looft; 5. Tony Rialson; 6. Dan Paplow; 7. Danny Myrvold; 8. Jim Gregoire; 9. Adam Ecker; 10. Randy Fischer; 11. Eric Bassett; 12. Bruce Egeland; 13. Brycen Johnson; 14. Brian Rogers; 15. Randy Hook; 16. Tom Brown; 17. Nick Ober.
Hobby Stocks – 1. Justin Luinenburg; 2. Jamie Songer; 3. Cory Probst; 4. Matt Hanson; 5. Mark Janssen; 6. Brad Snyder; 7. Travis Radke; 8. Ernie Dailey; 9. Corey Groenwald; 10. John Mitch­ell; 11. Trevor Holm; 12. Derek Platt; 13. Bruce Kingery; 14. Adam Snyder; 15. Tim Kennedy; 16. Katie Gillette; 17. Adam Bruder; 18. Clyde Krog; 19. Devon Kuehne; 20. Wes Jahnz; 21. Eric Gil­lette.
Sport Compacts – 1. Nate Coopman; 2. Stephanie Forsberg; 3. Neil Forsberg; 4. Kyle Ewert; 5. Joe Bunkofske; 6. Joe Joehnck; 7. Nathan Sukalski; 8. Cole Bassett; 9. Jordan Rogotzke.