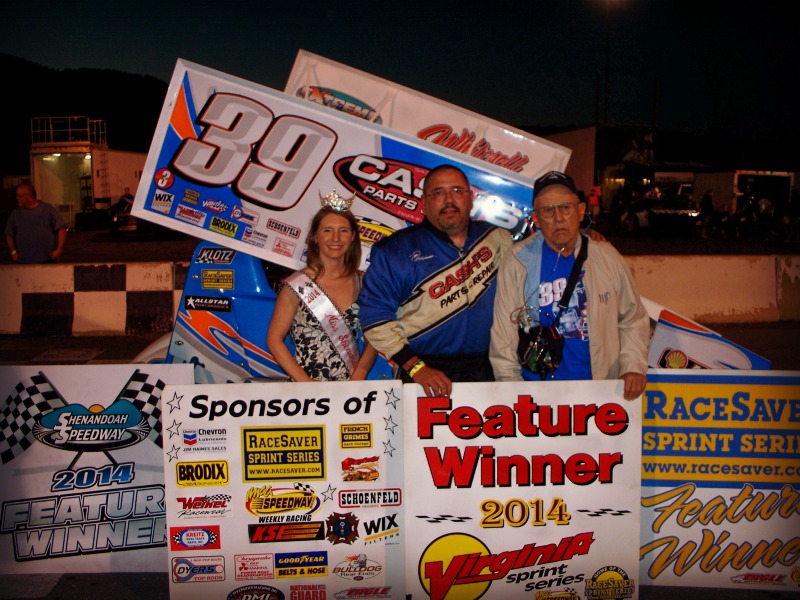 By Jim Haines
SHENANDOAH, Va. (June 14) – The wait was worth it Saturday night for Tom Humphries.
Humphries got his second Virginia Sprint Series win of the season Saturday at Shenandoah Speed­way.
Tony Harris had the lead for much of the IMCA Eagle Motorsports RaceSaver Sprint Car headliner, pulling off with tire issues after relinquishing the point in the late going.
Charlie Ware led to lap three when Tony Harris powered his way to the front and took off with Hum­phries, Brian Lawson and Jerald Harris all chasing.
Tony Harris stayed strong before a caution waved for debris at halfway. Humphries got by and Harris slowed with a tire problem, then headed for the pits.
Jerald Harris caught Lawson for second and took up the chase but by now it was too little too late as Humphries held on for the win.
The Virginia Sprint Series takes a week off before heading to the beach at Dixieland Speedway in Eliz­abeth City, N.C., on Friday, June 27.
Feature results – 1. Tom Humphries; 2. Jerald Harris; 3. Brian Lawson; 4. French Grimes; 5. Anthony Linkenhoker; 6. Charlie Ware; 7. Chris Ware; 8. Carl Simmons; 9. Ron Moyer; 10. Tony Harris.
30