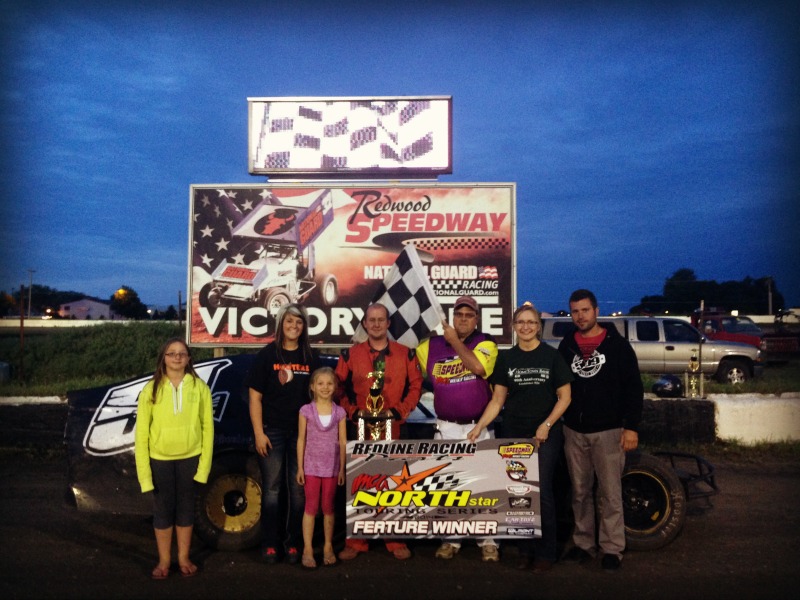 REDWOOD FALLS, Minn. (June 8) – The driver with the most career Stock Car tour wins became the driver with the most recent Redline Racing Parts North Star Series Modified victory Sunday at Redwood Speedway.
Dustin Larson earned his career first IMCA Xtreme Motor Sports Modified checkers by passing Curt Lund for the lead on the seventh of 20 laps and then holding off challenges from Jerry Wren.
"I was pretty happy to pass Curt. He's pretty good," said Larson, an eight-time series Stock Car winner and the 2012 champion. "This was my eighth night in a Modified and I'm starting to get the hang of it. It definitely drives differently than a Stock Car but it's fun."
The last caution waved with five to go. Larson won by four car lengths. Josh Meyer and defending champion Brandon Beckendorf completed the top five.
Larson's father Jim won for a second time in defense of his IMCA Sunoco Stock Car series crown.
After starting fourth, the senior Larson was quickly up to second and took the lead on the sixth of 20 laps.
He collected North Star Series career win number five in front of Shaun Bruns, Rich Gregoire, Matt Speckman and Mike Bruns, then watched Dustin's Modified feature unfold during post-race tech in the infield.
"I enjoyed my win very much because you never know when you're going to win your next one," he said, "but I enjoyed Dustin's win even more."
Other winners Sunday were Nick Johansen in the Karl Chevrolet Northern SportMods, Justin Luinenburg in the IMCA Sunoco Hobby Stocks and Nate Coopman in the Mach-1 Sport Compacts.
Johansen raced from fourth starting to the lead in three laps and found himself racing with defending national and series champion Matt Looft in lapped traffic.
Looft got by once but Johansen regained the point and won a fast-paced, caution-free contest. Looft, Dan Paplow, Justin Remus and Randy Fischer completed the top five.
Luinenburg drew the seventh starting spot, passed Jamie Songer after midway and cruised to a more comfortable victory.
Songer, Matt Olson, Cory Probst and Wes Jahnz were next across the stripe.
Coopman's victory was his tour career 16th and third in as many North Star Series outings this season. The defending champion and current national point leader won ahead of Dan Knish, Stephanie Forsberg, Kyren Porter and Joe Bunkofske.
Feature Results
Modifieds – 1. Dustin Larson; 2. Jerry Wren; 3. Curt Lund; 4. Josh Meyer; 5. Brandon Beckendorf; 6. Jay Noteboom; 7. Tyler Limoges; 8. Jeff Larson; 9. Chad Porter; 10. Justin Anderson; 11. Dalton Magers; 12. Tom Silver; 13. Jason Fisher; 14. Josh Rogotzke; 15. Tim Pessek; 16. Mat Hollerich; 17. Greg Jacobsen; 18. Dan Menk; 19. Jeff Maasch; 20. Trent Loverude.
Stock Cars – 1. Jim Larson; 2. Shaun Bruns; 3. Rich Gregoire; 4. Matt Speckman; 5. Mike Bruns; 6. Dan Veenstra; 7. Gary Mattison; 8. Luke Sathoff; 9. Chris Palsrok; 10. Jake Bruns; 11. Jesse Timm; 12. Dan Mackenthun; 13. Dean Nething; 14. Jim Richert.
Northern SportMod – 1. Nick Johansen; 2. Matt Looft; 3. Dan Paplow; 4. Justin Remus; 5. Randy Fischer; 6. Chris Isaacson; 7. Danny Myrvold; 8. Kris Zuhlsdorf; 9. Nick Dieter; 10. Kyle Remus; 11. Bruce Egeland; 12. T.J. Brown; 13. John Albrecht; 14. Dan Milbradt; 15. Nathan Chukuske; 16. Josh Larsen; 17. Larry Revier; 18. Tom Malchow Jr.; 19. Tyler Boyda; 20. Zach Foesch; 21. Jordan Meine; 22. Aaron Krohn; 23. Dean Precht; 24. Benjamin Chukuske; 25. Paul Konakowitz.
Hobby Stocks – 1. Justin Luinenburg; 2. Jamie Songer; 3. Matt Olson; 4. Cory Probst; 5. Wes Jahnz; 6. Eric Gillette; 7. Tory Harazin; 8. Kevin LaTour; 9. Neil Forsberg; 10. Nathan Gegner; 11. Shane Honl; 12. Shane Harazin; 13. Corey Schultz; 14. Mark Janssen; 15. Tim Huseby; 16. Austin Jahnz; 17. Frank Billmeier; 18. Tim Kennedy; 19. Chad Taylor; 20. Ryan Grochow.
Sport Compacts – 1. Nate Coopman; 2. Dan Knish; 3. Stephanie Forsberg; 4. Kyren Porter; 5. Joe Bunkofske; 6. Alan Lahr; 7. Ben Wilhelmi; 8. Rick Castle; 9. Tori Groebner; 10. Jordan Rogotzke; 11. Kyle Ewert.