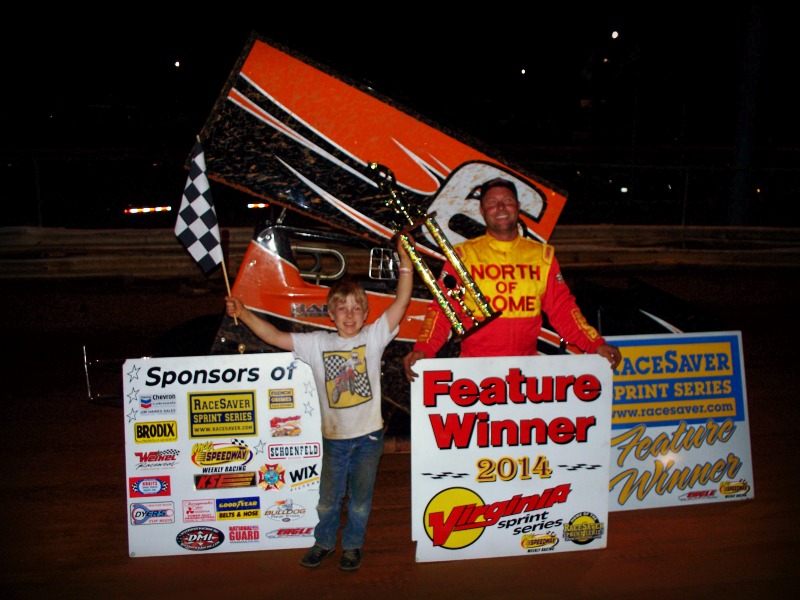 By Jim Haines
NATURAL BRIDGE, Va. (June 7) – Jerald Harris traded cars with his brother to get some seat time in the car before they take it to the IMCA RaceSaver Nationals at Eagle Raceway in August.
Along the way he won his third Virginia Sprint Series feature of the season, after spinning off track on lap one and storming back to take the Saturday win at Natural Bridge Speedway.
Chris Ware and Charlie Ware paced the field to green with Charlie out first and leading lap one before a quick yellow for the spin by Harris.
Charlie was back at it before Chad Worrell moved around the top and in to first as Charlie slowed with drive line failure and headed for the pits. Chad Worrell was smooth out front as the circuits clicked away.
By lap 20 Harris had made his way to second and was all over Worrell. A lap later Harris was out front with Tom Humphries making a charge as well.
The yellow came out for debris with two to go but there were no late dramatics as Harris stayed in front to the checkers.
Humphries, Glenn Worrell, Anthony Linkenhoker and Chris Ware completed the top five.
Feature results – 1. Jerald Harris; 2. Tom Humphries; 3. Glenn Worrell; 4. Anthony Linkenhoker; 5. Chris Ware; 6. Tony Harris; 7. Carl Simmons; 8. Eliah Omwake; 9. French Grimes; 10. Kevin Fletcher; 11. J.D. Coats; 12. Chad Worrell; 13. Charlie Ware; 14. Brian Lawson; 15. Troy Severin; 16. Ryan Price; 17. Michael Keeton.