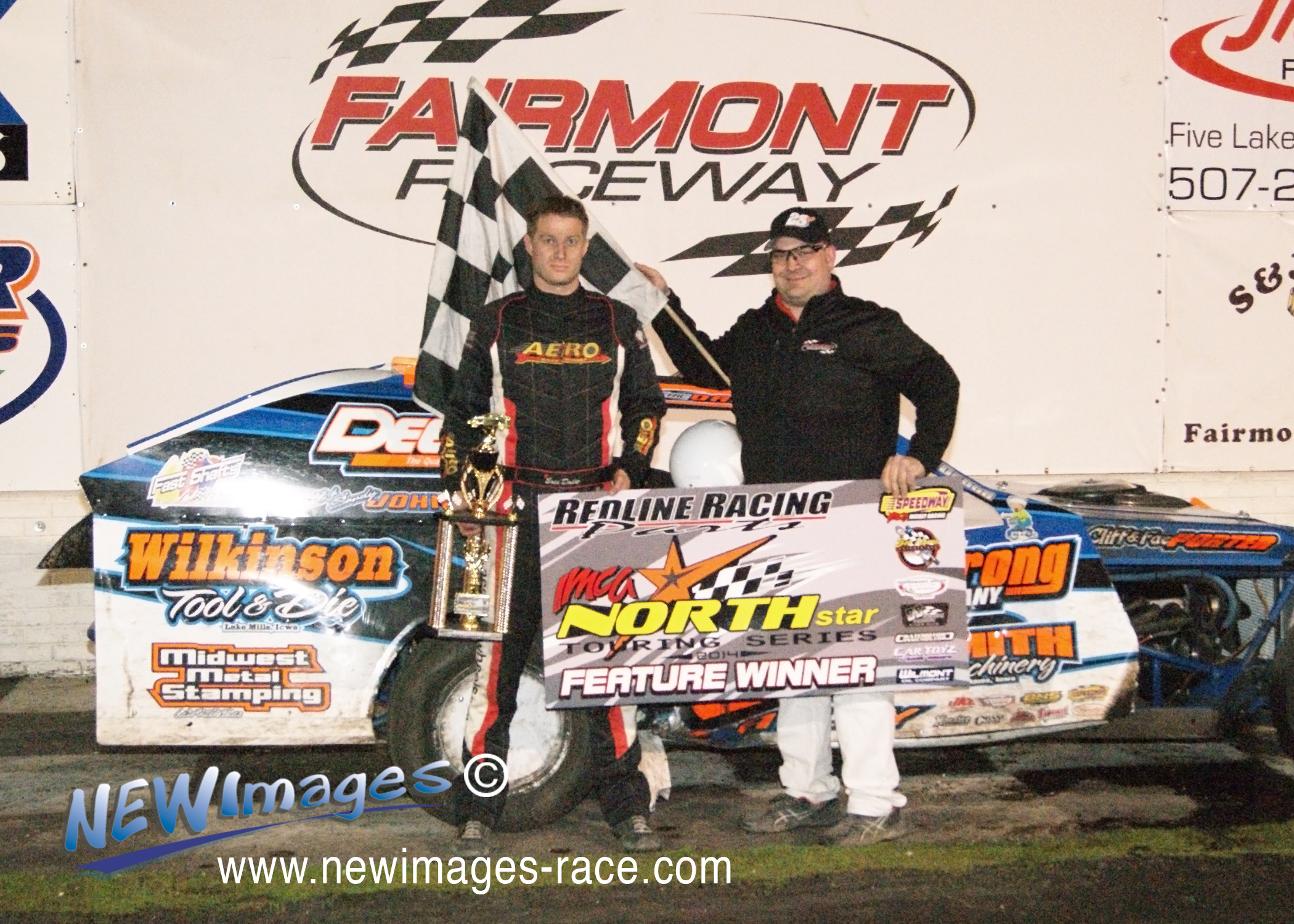 FAIRMONT, Minn. (May 9) – Tenth starting Eric Dailey was first following a green, white, check­ered finish to the IMCA Xtreme Motor Sports Modified feature in Friday's Redline Racing Parts North Star Series feature at Fairmont Raceway.
After running third much of the way, Dailey had slipped into second before getting caught in a multi-car tangle on the 25th and final circuit.
He went low and caught leader Josh Meyer on the final turn for the victory, his series career and division-leading fifth.
Meyer, Jay Noteboom, Roger Nielsen and Tad Reutzel completed the top five. Nielsen also ad­vanced nine positions while Reutzel was a plus seven spots.
Derek Green started on the pole and led all 15 times around the track in topping the IMCA Sunoco Stock Car main event. Devin Smith chased Green before ending a couple car lengths off the pace. Jim Larson advanced eight places to finish third.
Trent Schroeder was fourth and Andy Altenburg fifth.
In control from the initial start, Jared Boumeester took the Karl Chevrolet Northern SportMod check­ers ahead of defending series champion Matt Looft.
Greg Sidles passed eight cars en route to third place. Jason Andrews was fourth and Justin Re­mus fifth.
Their victories were series career first for both Green and Boumeester.
Cory Probst notched tour career win number six in the IMCA Sunoco Hobby Stock main event, ahead of Justin Luinenburg, Jamie Songer, Wes Jahnz and Jeff Senne.
Luinenburg was the hard charged after starting 12th. Songer and Jahnz both moved up seven spots.
Nate Coopman sped from outside row one to his series career 15th Mach-1 Sport Compact check­ers. Terry Blowers, Jay DeVries, Alan Lahr and Kyle Ewert were next across the stripe.
Feature Results
Modifieds – 1. Eric Dailey; 2. Josh Meyer; 3. Jay Noteboom; 4. Roger Nielsen; 5. Tad Reutzel; 6. Ty­ler Limoges; 7. Dalton Magers; 8. Brandon Beckendorf; 9. Mat Hollerich; 10. Jason Fisher; 11. Dustin Larson; 12. Jeffrey Larson; 13. Mark Gartner; 14. Travis DeBoer; 15. Greg Jacobsen; 16. Jerry Wren; 17. Warren Van Westen; 18. James Slawson; 19. Denny Anderson; 20. Justin Ander­son; 21. Dwaine Hanson; 22. Jeff Ignaszewski; 23. Curt Lund.
Stock Cars – 1. Derek Green; 2. Devin Smith; 3. Jim Larson; 4. Trent Schroeder; 5. Andy Alten­burg; 6. Matt Speckman; 7. Dan Mackenthun; 8. Ken Tietz; 9. Gary Mattison; 10. Luke Sathoff; 11. Chris Meyer; 12. Dan Thate; 13. Chris Palsrok; 14. Jerry Coopman; 15. Levi Feltman; 16. Alex Moreno; 17. David Wickman; 18. Doug Jenkins; 19. Roger Ver Doorn.
Northern SportMods – 1. Jared Boumeester; 2. Matt Looft; 3. Greg Sidles; 4. Jason Andrews; 5. Jus­tin Remus; 6. Randy Winter; 7. Nick Johansen; 8. Dan Paplow; 9. Dustin Phillipp; 10. Lyle Sathoff; 11. Dalton Sathoff; 12. Bruce Egeland; 13. John Albrecht; 14. Eric Bassett; 15. Nick Ober; 16. Justin DeBoer; 17. Cole Ignaszewski; 18. Travis Greenfield; 19. Nathan Chukuske; 20. Nick Dieter; 21. Kyle Steuber; 22. Ben Chukuske; 23. Randy Fischer; 24. Eric Larson; 25. Carter Shumski; 26. Ben Ruby; 27. Tyler Boyda; 28. David Hegwood; 29. Danny Myrvold.
Hobby Stocks – 1. Cory Probst; 2. Justin Luinenburg; 3. Jamie Songer; 4. Wes Jahnz; 5. Jeff Senne; 6. Neil Forsberg; 7. Marc Janssen; 8. Merle Pattison; 9. Kevin LaTour; 10. Chad Krug; 11. Lo­gan Kelly; 12. Tim Kennedy; 13. Ryan Grochow; 14. Matt Olson; 15. Malik Sampson; 16. Dan Richard; 17. Devin Kuehne; 18. Sarah Voss; 19. Zach Thoms; 20. Doug Schwanz; 21. Tyler Ignaszewski; 22. John Ross; 23. Bryant Johnson; 24. Zane Blanchard; 25. Chad Taylor.
Sport Compacts – 1. Nate Coopman; 2. Terry Blowers; 3. Jay DeVries; 4. Alan Lahr; 5. Kyle Ew­ert; 6. Stephanie Forsberg; 7. Kyle Hansen; 8. Ed Connell; 9. Nathan Sukalski; 10. Colby Lyons; 11. Kaytee DeVries; 12. Duwayne Berndt.