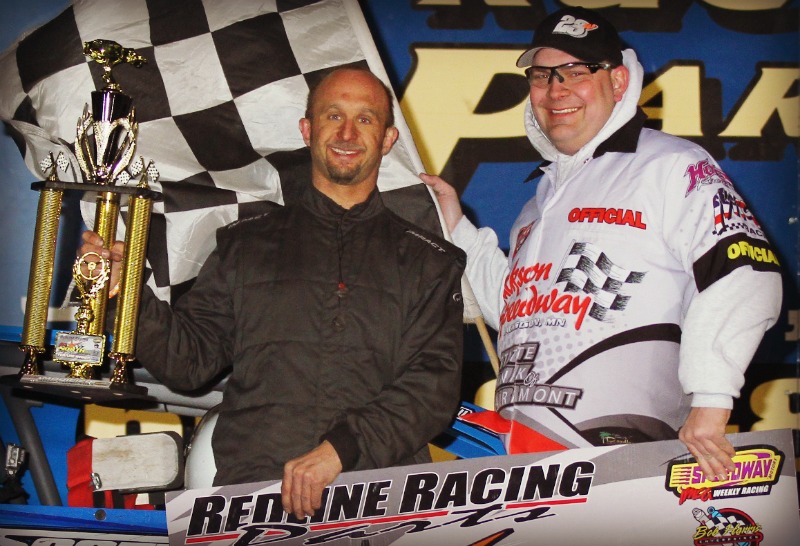 JACKSON, Minn. (April 26) – Opening night of the third annual Redline Racing Parts North Star Series set the stage for Mat Hollerich's IMCA Xtreme Motor Sports Modified career-first feature win.
The $800 checkers came Saturday at Jackson Speedway. Hollerich started on the pole and checked out on everybody in a 20-lap feature that ran caution-free.
"I worked pretty darned hard," said Hollerich, who steered through lapped traffic to win well ahead of Greg Jacobsen.
Roger Nielsen was third, Josh Meyer fourth and Jeff Larson fifth.
"I was happy just winning my heat. Then I won the feature," said Hollerich, now in a GRT ride. "It felt awesome. I couldn't believe it."
Following an 11-year hiatus from the sport, Hollerich had returned to finish fourth in the North Star Series point standings last year. His best showing during the 2013 tour was fifth, also at Jackson.
Three defending series champions were winners Saturday night, Jim Larson in the IMCA Sunoco Stock Cars, Matt Looft in the Karl Chevrolet Northern SportMods and Nate Coopman in the Mach-1 Sport Compacts.
Larson started on the pole in the Stock Car 15-lapper but didn't stay in front long. He had to wrest the lead back from Elijah Zevenbergen, then hold off son and 2012 tour champ Dustin for the victory, his tour career fourth.
Dustin Larson started 14th and ended in second. Ken Tietz, Zevenbergen and Gary Mattison rounded out the top five.
Fastest in the second set of turns, Looft started eighth and was at the front of the Northern SportMod main before midway in that 15-lap contest. He passed Randy Winter on the high side following a restart and sped to his North Star career fifth victory.
Winter, Ben Chukuske, Jason Andrews and Nick Johansen were second through fifth, respectively.
Coopman notched series career win number 14 ahead of Kyle Ewert, Ben Wilhelmi, Megan Lappegard and Jon Joehnck.
Jeremy Wegner was the IMCA Sunoco Hobby Stock winner, ahead of Justin Luinenburg, Justin Nehring, Corby Probst and Trevor Holm.
Feature Results
Modifieds – 1. Mat Hollerich; 2. Greg Jacobsen; 3. Roger Nielsen; 4. Josh Meyer; 5. Jeff Larson; 6. Dalton Magers; 7. Jay Noteboom; 8. Jerry Wren; 9. Jason Fisher; 10. Chad Porter; 11. Tyler Limoges; 12. Denny Anderson; 13. Brandon Beckendorf; 14. Dwaine Hanson; 15. Randy Klein; 16. Derrick Barglof
Stock Cars – 1. Jim Larson; 2. Dustin Larson; 3. Ken Tietz; 4. Elijah Zevenbergen; 5. Gary Mattison; 6. Chris Meyer; 7. Luke Sathoff; 8. Dan Mackenthun; 9. Mathias Lux; 10. Chris Palsrok; 11. Rich Gregoire; 12. Levi Feltman; 13. Roger Verdoorn; 14. Jerry Coopman; 15. Dan Thate; 16. Andy Altenburg; 17. Trent Schroeder.
Northern SportMods – 1. Matt Looft; 2. Randy Winter; 3. Ben Chukuske; 4. Jason Andrews; 5. Nick Johansen; 6. Matt Marrow; 7. Danny Myrvold; 8. Kris Zuhlsdorf; 9. Darin Roepke; 10. Brandy Fischer; 11. Justin Remus; 12. Nathan Chukuske; 13. Chad Ten Napel; 14. Kyle Steuber; 15. Lyle Sathoff; 16. Jordan Meine; 17. Bruce Egeland; 18. Nick Dieter; 19. Nick Ober; 20. Justin Schuder; 21. Dan Milbrandt.
Hobby Stocks – 1. Jeremy Wegner; 2. Justin Luinenburg; 3. Justin Nehring; 4. Cory Probst; 5. Trevor Holm; 6. Eric Gillette; 7. John Ross; 8. Bobby White; 9. Jeff Senne; 10. Kevin LaTour; 11. Jamie Songer; 12. Logan Kelly; 13. Nathan Gegner; 14. Lee Fetchenheir; 15. More Janssen; 16. Tim Huseby; 17. Rodger Jennings; 18. Ryan Grochow; 19. Tim Kennedy; 20. Neil Forsberg; 21. David Miller; 22. D.J. Clinton; 23. Drew Barglof; 24. Malik Sampson; 25. Bryant Johnson; 26. Matt Olson; 27. Joe Huseby.
Sport Compacts – 1. Nate Coopman; 2. Kyle Ewert; 3. Ben Wilhelmi; 4. Megan Lappegard; 5. Jon Joehnck; 6. Scott Espey; 7. Jason Bolte; 8. George Van Pelt; 9. Matt Engesser; 10. Nathan Sukalski.