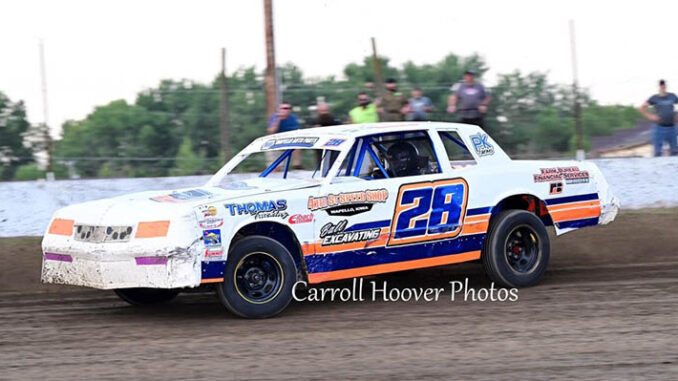 MORNING SUN, Iowa (Nov. 20, 2023) – Tucker Richardson began his first IMCA Sunoco Hobby Stock season not quite sure what he or his car were capable of.
A lot, as it turned out.
Richardson wrapped up national and IMCA Northern Region rookie of the year honors along with East Moline Speedway track and Illinois State championships while winning four features and qualifying for the main event at the IMCA Speedway Motors Super Nationals fueled by Casey's … all before celebrating his 17th birthday.
"If you'd asked me at the beginning of the season if we'd be racing for rookie of the year, I'd have told you no way. If you'd asked in the middle of the season, I'd have told you maybe," Richardson said. "Later, when I'd seen that I could compete, I was thinking we needed to go to more races. That's when we started traveling and getting out more."
He'd turn laps at eight different tracks in all, racing to a flurry of top five finishes in the second half of the season and finishing 20th in the national points.
"The start of the year was iffy for us but I learned a lot of things from day one," emphasized the Winfield Mount Union High School junior, "most importantly what to keep out of my head, to focus on what I was doing and anticipate what I needed to do better. I understood more that I needed to know from the car."
"We had to have the car at its best to compete for the rookie award. It wasn't easy, that's for sure, but we did it."
Piloting the same ride that took Kaden Reynolds to the national championship two years ago, Richardson made the move up from a local truck class and got his first sanctioned win in just his seventh start, at CJ Speedway.
"My uncles John and Shane are tinkerers and got me into this class. I got to run this car a couple times late last season," he explained. "We were third in points at Columbus Junction and that's my favorite track. It's close to home and I know everybody there, but I'm a big fan of bullrings like East Moline, too."
He's also a big fan of Boone Speedway after making his Super Nationals debut there in September.
"Being the national rookie of the year would be one of my highlights but making the big show at Boone was pretty big, too," Richardson said. "When we got there and there were so many cars, I didn't know what exactly to think. That was a whole different world for me racing with them, and it blew me away that I was able to keep up with them."
Wins 4
Top Five Finishes 23
Starts 38
HIS CREW: Father Nick Love, uncles Shane and John, grandfather Kenny, cousin Anthony and Mason and Garrett Cooley.
HIS SPONSORS: Inghram Lawn and Landscape of Burlington; Holmes Highway Service Center, 40th Street Speed Shop and NAPA Auto Parts, all of Wapello; Thomas Trucking, Evolve Contracting and Springsteen Tilling, all of Morning Sun; Farm Bureau Financial Services by Brandon Rothzen of Mediapolis; Keltner Welding & Fabrication of Nichols; and uncle and aunt Joe and Stacy Stanbary of New London.