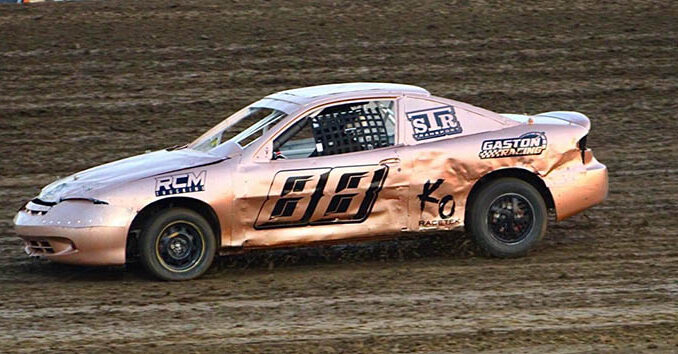 DECATUR, Texas (Nov. 20, 2023) – His interest in a different kind of horsepower explained Stephen Stiteler's decision to move to Texas.
After retiring from rodeo last fall, the racing bug bit and that's what got Stiteler on the dirt and in an IMCA Mach-1 Sport Compact.
"I wish I would have done this sooner," said Stiteler, national rookie of the year in the 4-cylinder division by virtue of a tiebreaker after finishing the 2023 season tied in points with teammate Callee Gaston. "I've never had so much fun."
The Michigan native turned Decatur resident made 50 starts during the season, winning three times and finishing third in the points race at Southern Oklahoma Speedway. He got his first win in the division at Ardmore and the other two at Kossuth County Speedway in Iowa during one of his quick racing vacations.
"I had run go karts on dirt before I started rodeoing. I found a niche of people who did that in Michigan but figured I could do better in Texas and moved here in 2007," said Stiteler, who later started a transport company and then branched out into the equine relocation business (mostly transporting rescue horses to their new homes, but also zebras another other exotics as well as shelter dogs). "There were always dirt tracks nearby when we were at rodeos and we went to the races whenever we could."
"Last year I retired from rodeo and decided to make a life change. I called long-time friend Joseph Woodarski, asked him to get me the fastest Sport Compact he could find for sale and bought a car sight unseen," he continued. "I did a lot of research after the spur of the moment purchase, got hooked up with Reaper Raceworks and went racing."
Driving a 2003 Chevy Cavalier nicknamed Wally, which became Old Faithful, he got help much of the season from eventual national champion Randall Martin. Callee's dad Ronnie was on his crew and her grandfather Langston Layne built his engines.
"We raced together as a team and traveled together a lot. Our goal from the second or third week of June was to finish 1-2 as national rookies and Randy to win the national title," said Stiteler. "It was good to see Randy win the national championship and for Callee and I to be 1-2 in the rookie points."
Son Coil – that's from a rodeo roping term – was also on the crew, as was fiancée Amanda Barnum.
"We actually got engaged last December. She allowed me to put off the marriage so I could chase national rookie points," said Stiteler, who will now tie the knot – that's a nuptial term – with Amanda in 2024.
Wins 3
Top Five Finishes 18
Starts 50
HIS CREW: Fiancee Amanda Barnum, son Coil, Randall Martin, Ronnie Gaston and Joseph Woodarski.
HIS SPONSORS: STR Transport of Decatur; Gaston Racing, Layne's Automotive and Machine, Ko Racetek, RCM Trucking, Shibby Design and Shaker's Auto Body, all of Springtown; Brian's Auto Buying of Red Oak; Reaper Raceworks of Mason City, Iowa; and KBM Motorsports of Stuart, Iowa.