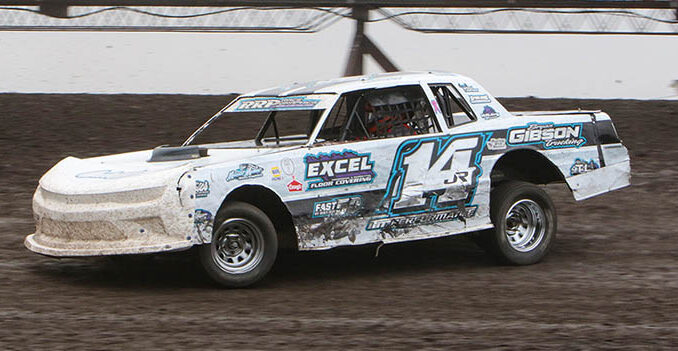 MANNING, Iowa (Nov. 20, 2023) – Jake Sachau needed a single season to race to a collection of IMCA accomplishments it would take most drivers an entire career to accumulate.
The IMCA Sunoco Stock Car national and EQ Cylinder Heads Northern Region rookie of the year, Sachau was track champion at Crawford County Speedway and a 10-time feature winner in 2023, wrapping up the season with the checkers at Shelby County Speedway's Tiny Lund Memorial.
But wait, as the old late-night TV infomercials urged. There's more!
A two-car star, Sachau won both the BSB Race of Champions and Northern SportMod main event, and qualified for both the B & B Racing Chassis All-Star Invitational and Stock Car Big Dance at the IMCA Speedway Motors Super Nationals fueled by Casey's.
"Super Nationals is a race I've wanted to win my whole life. When I started racing, I told myself I wouldn't stop until I did," he said. "I had high expectations last year and went home disappointed. I knew I had the best car this year and we got the job done."
"Other than Super Nationals, my biggest highlight was winning the track championship at Denison," Sachau adds. "Making the Stock Car main event, and the All-Star race in a car that wasn't handling that well, were special, too."
He'd get the job done early and often in a Stock Car, getting his first win in just his career third start and end with 25 top five's and fourth in national point standings.
"I've always thought Stock Cars were some of the best racing there is and always wanted to do it," said Sachau, from Manning and co-owner of the 2017 Sniper Chassis with buddy Joe Reetz. "But running a Stock Car this year, more or less, started as just something to do."
"I think it was in July when we were at the track and somebody asked if we were running for rookie of the year. It was something that had never even crossed my mind," he continued. "When I realized that we had a shot at it, we kept racing and it fell out right for us."
Five of his wins came at Crawford County, including his division first on May 19. Sachau also won twice at Stuart Speedway and once each at Boone Speedway, Interstate Speedway and at Shelby County.
That $4,000 win at Harlan, it should be noted, came from seventh starting and Sachau was chased to the finish by former national champions Jordan Grabouski and Damon Murty.
"I borrowed a shock from Joe's dad Craig and worked on the car all night. I was so nervous," he admitted. "I never expected to win but I drove straight to the front. That was my coolest win of the season, outside of Super Nationals."
Wins 10
Top Five Finishes 25
Starts 39
HIS CREW: Girlfriend Amanda Blum, Dawson Hikins, Rylie Hedberg, Tyler Kline and Joe Reetz.
HIS SPONSORS: Twin Transfer of Manning; Culvers of Carroll; Precision Performance of Oxford; Waderich Towing, Lucky Lanes Bowling Alley and Laps for Lyric, all of Denison; TK Trucking and Beeck Farms, both of Schleswig; Midstate Machine of Des Moines; Monster Graphix of Walnut; Logue Fabrication of Logansport; JP3 Transmission of Spencer; and Rush Racewear of Corpus Christi, Texas.