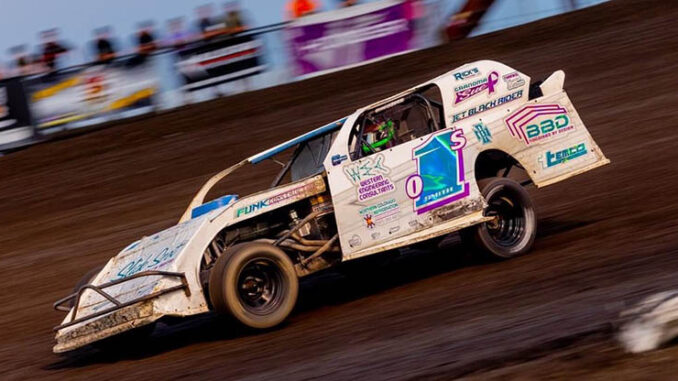 FORT MORGAN, Colo. (Nov. 17, 2023) – After much success in his two IMCA Sunoco Hobby Stock seasons, Hunter Smith thought the time was right to look for new challenges in a new division.
After his first Friesen Performance IMCA Northern SportMod start, he knew that decision was the correct one.
Smith, 16 years old and a junior at Brush High School, became the first Colorado driver to earn national rookie of the year honors in his new class. He'd also topped standings for Hobby Stock rookies in 2021.
"We bought a 2019 Rage turnkey from Brett Berry on a Saturday. He helped us with setup and we raced it the next day," Smith said. "The handling is different, but in a way I ended up driving it kind of like my Hobby Stock. "I'd just throw it into the corner, even on a dry slick track."
With Grandfather 'Papa' Rich Smith traveling with Hunter every night, his first of 10 wins on the season came in just his second start, at El Paso County Raceway.
He'd win track titles at Phillips County Raceway and I-76 Speedway as well as the Colorado Alliance Tour championship and finished 16th in national point standings.
"It would be hard to pick out one season highlight," Smith said, noting how his entire team has come together as a family since the death of his father Zach, shortly after the 2021 awards banquet. "It would probably be the three straight wins to end the season, or making the race of champions at Boone."
"I have the drive to get better. I think we showed that at Super Nationals and we'll be even better when we race in Iowa again next year."
His tentative travel plans for 2024 include Salute to Veterans shows in Iowa, the Harris Clash at Minnesota's Deer Creek Speedway and Captain of the Creek at 141 Speedway in Wisconsin before returning to Boone for the 42nd annual IMCA Speedway Motors Super Nationals fueled by Casey's.
"We've also thought about making a West Coast trip, maybe for the Wild West Tour," Smith said. "We want to race against as many different drivers at as many different tracks as we can. That can only make us better."
Wins 10
Top Ten Finishes 19
Starts 35
HIS CREW: Mother Cassandra, grandparents Rich and Angie Smith, brothers Huston and Haxton, Tyson Groves, D.J. Banks and Brett Berry.
HIS SPONSORS: BBD Buildings, Western Engineering Consultants, Big Dawg and Sons Weather Spotting Slick Spot Farm and Truck and Grandma Anita and aunt Kayla, all of Brush; grandparents Connie and Grandpa Ronnie of Mesa, Ariz.; grandmother Sue Wagner of Hoisington, Kan.; Funk Construction of Laguna Beach, Calif.; Northern Colorado Refrigeration, Temco Trailers, Golden Belt Bank American Family Insurance, Jet Black Rider, Morgan Lanes and The Caterpillar Clubhouse, all of Fort Morgan; BST Promotions of Holyoke; Eaton Body and Paint of Eaton; and Rick's Customs and Rick's Trucking, both of Boyden, Iowa.