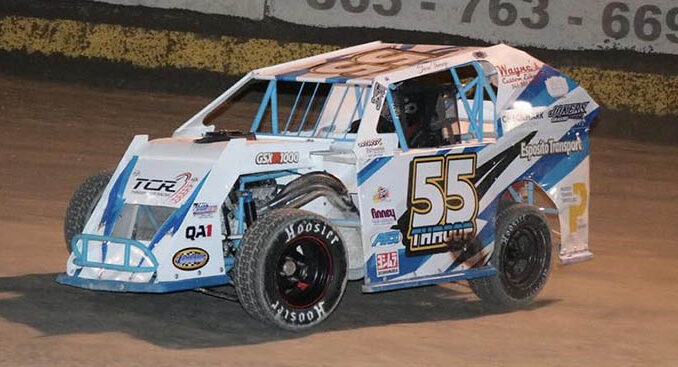 WEST PALM BEACH, Fla. (Nov. 16, 2023) – A streak of 12 consecutive feature wins keyed Stevie Throop's race to the Stealth Racing IMCA STARS Mod Lite national rookie of the year award.
But Throop, from West Palm Beach, said his biggest win came during a racing vacation outside his home state of Florida.
"We had three top four finishes with the Tennessee Mod Lite Racing Association before winning the Memorial Weekend show at Diamond Park Speedway (in Arkansas)," said Throop, 24. "That was definitely our highlight of the season. To roll out of the box at a track you've never seen before and beat people who race there regularly speaks volumes about the program we've built in a short time."
Throop was quick to serve notice on his Mod Lite competition that he'd be a contender to be be reckoned with, winning a Sugar Bowl Nationals feature in just his second night out before launching that streak of 12 straight checkers from mid-February and into May at East Bay Raceway Park and Hendry County Motorsports Park.
He'd earn both Hendry County track and Florida State titles while finishing third in points at East Bay.
"We were rolling pretty good down there. Hendry is a bullring and you've got to be able to set up passes where you're best on the track," Throop said. "East Bay is much different. You can get two or three lanes working but they can change during the race."
"The racing surfaces are different, too," he added. "Hendry is more sandy. East Bay is more like something you'd see up north."
Throop had a handful of starts in a local FWD class and a couple more in a mini stock before joining his father Steve in the Mod Lites.
"They're a growing class down here. There are plenty of them to go around," he said. "You can spend $160 on a tire that lasts eight to 10 races and only burn up three to four gallons of fuel a night. I like the competition and I like the cost."
The national runner-up ended with 18 wins and 24 top five finishes in just 27 starts. Throop squeezed in three more out-of-state races and got his last two Hendry County wins before turning attention full-time to his studies at the University of Tennessee College of Medicine in Memphis.
"I've wanted to be a doctor since I was in middle school," he said. "Most of the work on applications was done last fall and it was the beginning of May when I knew I'd be starting medical school. If there is a time I'm free I'll race, but for now racing is on the backburner."
Throop became the first Florida driver to earn national IMCA rookie honors in any division since 1996.
HIS CREW: Parents Steve and Wendy, George Sands and Dwane King.
HIS SPONSORS: Property Transfer Services of North Palm Beach; Checkmark Collections, Advantage Benefits Team and Anthony Long Fence Contracting, all of West Palm Beach; Schram Racing Solutions of Jupiter; Esposito Transport of Loxahatchee; TUFSolutions of Charlotte, N.C.; and Joker Chassis of Milan, Ill.