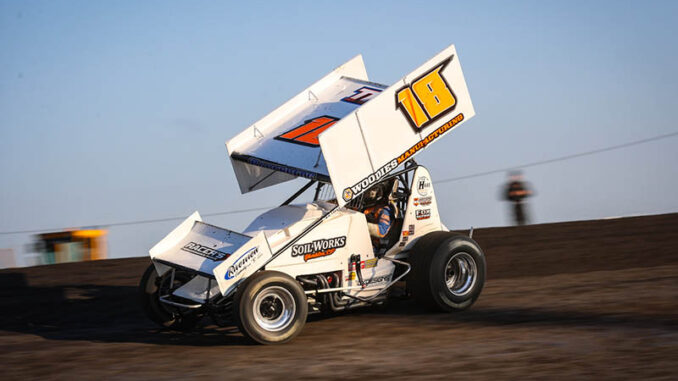 CAMBRIDGE, Minn. (Nov. 15, 2023) – Tyler Rabenberg had two pretty big accomplishments to his credit in just his first month in an IMCA RaceSaver Sprint Car.
He had an even bigger one at the end of his first season.
The 17-year-old from Cambridge, Minn., had two wins and another 13 top five finishes in racing to national rookie of the year honors in IMCA's winged division.
"We started off really good. I definitely never thought I'd win my first start, at Red River Valley Speedway, and to win again just 10 days later at Huset's Speedway was a huge accomplishment," said Rabenberg. "We had a tough stretch for a while with some DNFs before we got our momentum back and ended up having a pretty good year."
"There are a lot of second, third and even fourth generation drivers who have a lot of knowledge in the sport but we came into Sprint Car racing blind," he added. "We had very little knowledge about it so my dad Craig and I spent many hours reading and doing research to try and work on car set ups. My dad is a very important part of my racing. We are just a small three-person team and we do this as a family."
He'd make 32 starts in all, at six different tracks in North Dakota, South Dakota and Minnesota, and was third in points at Red River Valley.
"I'd been in go karts, outlaw karts, micro sprints and mini-mods before running a handful of 360 shows. We watched the RaceSavers a couple times and decided it would be better to race in that class and be able to do it at more tracks," Rabenberg explained. "We really liked how affordable the class is. You can get into it for relatively not a lot of money and be competitive."
Now a senior at Connections Academy, an online school and looking forward to a career in diesel mechanics or welding, Rabenberg was competitive in the class from night one.
"We pulled in a West Fargo, saw them watering the track and new it would be fast and tacky," he said of the May 19 feature at Red River. "I won my heat, started second, had a good race with Trevor Serbus and ended up getting the win."
The storyline was similar when Rabenberg traveled to Huset's for the Memorial Weekend, following a disappointing DNQ on May 28 with the convincing win the next night.
"I won my heat, started second, got to race with Trevor again and led by as much as 4-1/2 seconds before a caution before getting the win," he said. "Winning that night at Huset's is what stands out to be most about my rookie season. To do that at this point in my career was a huge accomplishment."
"We started the year on a high note and we got to race with a lot of very good veteran drivers," Rabenberg added. "We had a lot of fun."
Wins 2
Top Five Finishes 15
Starts 32
HIS CREW: Parents Craig and Jenny.
HIS SPONSORS: Woodies Manufacturing, Racers Exchanger and Northland Crane Service, all of Princeton; TRE Race Cars of Alexandria; Hoosier Tire North of Elk River; Soil Works of Yankton, S.D.; Haas Pheasant Farms of Clear Lake, S.D.; Fox Repair of Bancroft, S.D.; and River View Family of Chamberlain, S.D.