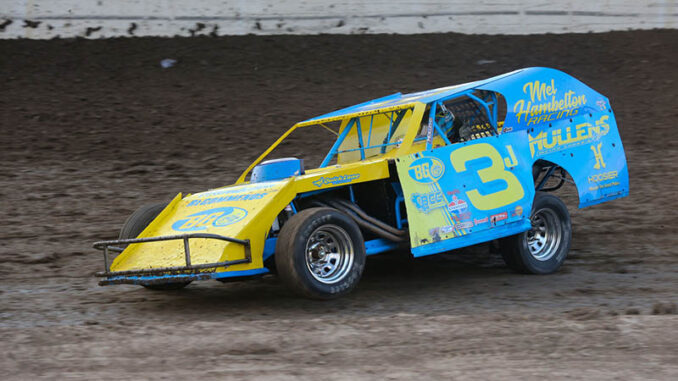 MAIZE, Kan. (Nov. 15, 2023) – A DNF on opening night of Salina Speedway's Mid-America Clash had Jake Nightingale thinking seriously about loading up the trailer and ending his season early.
He changed his mind and stuck around, winning the night two show and ultimately the Jet Racing Central Region championship.
Those Sept. 23 Friesen Performance checkers were Nightingale's fifth of 2023 and gave him the edge in the race with Anthony Roth for his career first regional crown.
"It's pretty incredible, to say the least," said Nightingale, who'd previously gone 1,351 days between wins while moving up in classes and before starting his IMCA career four years ago. "Racing was a dream of mine since I was little. Now It's almost hard to believe, to go from not winning for so long to winning one of five regions."
"I can't wait to chase the national title. I'm a little bit excited if you can't tell."
The Dodge City Raceway Park track and Kansas State champion was an RC racer in junior high and started his on-track career in go karts and turned his first Modified hot laps at the age of 14.
His "baptism by fire" came in local Modified classes before his first, pandemic shortened IMCA campaign in 2020.
"I had done a lot of reading before jumping into the IMCA world. I liked that if I got into it, I could race for track, state and regional points," said Nightingale, 25. "I've won track and state championships two years in a row, I was regional runner-up to Jordan Grabouski last year and now I've won the region."
Making all but one of his 34 starts in his home state, Nightingale won twice at both Salina, where he was second in the weekly point standings, and at Dodge City, and once at RPM Speedway.
He'd made 291 consecutive starts over seven years in the same 2016 Mullens Chassis before switching to his new 2023 ride for the final weekend at Salina.
"We knew the regional points race was close and we knew the Mid-America Clash was going to be our last show of the season. My sister was getting married the same weekend as Fall Nationals at RPM so we weren't going to make that," he said. "When we got caught up with Jordan and ended up in the infield on Friday, we thought about packing up and going home."
"It says a lot about our team that we decided to come back on Saturday in our backup car," he continued. "We held our own, we won and now we're the regional champion."
Wins 5
Top Five Finishes 23
Starts 34
HIS CREW: Father Phil, Nic Baalman, Joe Shearer, Jeremy Mahoney and Alan Covert.
HIS SPONSORS: Mel Hambelton Ford, Mel Hambelton Racing, Mullens Racing Chassis, Big Corner Creative, BG Products and Hoosier Tire Great Plains, all of Wichita; Red's Standard of Halstead; Schoenfeld Headers of Van Buren, Ark.; and Duvall Electric of Claremore, Okla.