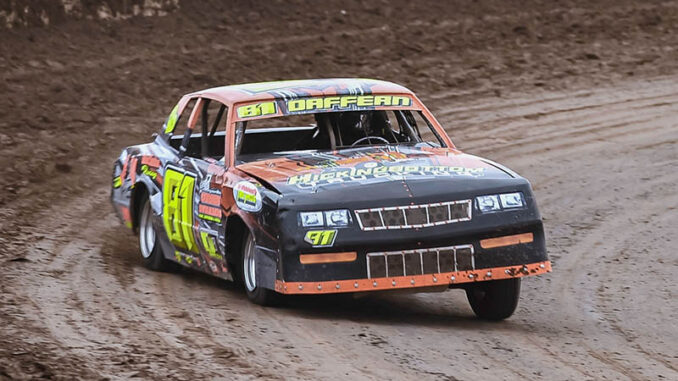 BRAWLEY, Calif. (Nov. 15, 2023) – Thomas Daffern borrowed a car when he made his first trip to race in the Midwest this summer.
He might have to borrow a trailer to get all the trophies, plaques and championship jackets he'll be receiving at the upcoming IMCA national banquet back home.
The Brawley speedster set the bar high in 2023, finishing ninth in IMCA Sunoco Hobby Stock national standings and becoming the first California driver in division history to win the Southern Region title.
Along with 17 feature wins, he'd also earn track championships at Barona Speedway, Cocopah Speedway and Deuce of Clubs Thunder Raceway track titles, and both Arizona and California State crowns.
"We started off racing hard for national and track championships," said Daffern, part of a large racing family. "Getting regional and state titles were nice, too."
"We ran the car (a 2013 Reaper) I'd gotten right before the summer break at Cocopah last year all season. I'd picked it up for a fairly good price," he continued, " and it worked pretty good before we started having mechanical problems."
A two-time winner during the IMCA.TV Winter Nationals, Daffern totaled 10 checkers before the end of April and paced national points into June.
He'd battle motor issues for more than his fair share of the season close to home and later drove a borrowed car Frankensteined with parts from other rides during the Midwest Madness Tour, with a runner-up finish to show from the feature at Park Jefferson Speedway.
"It was an interesting tour," said Daffern, who would return to the Midwest in September for the IMCA Speedway Motors Super Nationals fueled by Casey's. "Some of the tracks were like back home and some were completely different. But we learned and we had fun."
Daffern's father Roy, his inspiration and a tech inspector at his local tracks, and grandfather both raced in a sportsman class in California and Arizona. His sons Austin and James learned to walk in the grandstands at local tracks and are now part of a family team that includes Daffern's brothers Steven and Cody, and cousin Brycen.
Daffern started racing in James' Hobby Stock midway through the 2021 season. He was track champion at Barona and the first-ever California State king last year.
"I was very fortunate to win as many races and to accomplish as much as I did this season. Points racing is not easy. It takes a lot of funding and it takes a lot of travel, but it seemed like the California guys did a lot of catching up with the rest of the country this year," he said. "I'm not going to race for points next season. I want to mentor some of the younger drivers we have in local classes and help them move up to the Hobby Stock."
Wins 17
Top Five Finishes 29
Starts 43
HIS CREW: Father Roy and brother Cody.
HIS SPONSORS: Father Roy, wife Jennifer Smith, Steven Daffern and J & M Custom Auto, Michael Hickingbottom and LBM Racing, Ronald Pegues and Randy Ruane with Diggin' Deep BBQ all of Brawley; Mike Pridgeon and MPR Race Engines and Brian Fitzgibbons and DD West, both of Ramona; Mike Charlton of Escondido; Imperial Flying Services of Imperial; Brynn and Dana Mendoza of El Centro; Josh Woods and Nu-Wave Innovations, Tim Whitehead Whitehead's Tire Pros and Scott Tenny, all of Yuma; and Jason Hickingbottom and Hickingbottom Trucking of Pocahontas, Iowa.