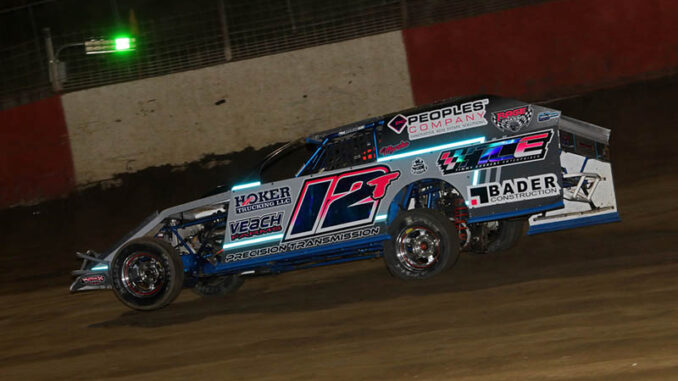 FREEPORT, Ill. (Nov. 13, 2023) – A season that started out with the goal of focusing on special events turned out special in a couple different ways for Jeff Larson.
Larson counted his career 100th Friesen Performance IMCA Modified feature win among 15 checkered flag runs while racing to another Razor Chassis North Central Region championship.
"At the beginning of the year, we really didn't have any plans to do a lot of weekly racing. We were just going to race specials," explained Larson, from Freeport, Ill., and wheelman for the Tim Current Rage Chassis-equipped team. "There were a lot of rainouts early and after about a month we saw that we could still race for the region and maybe a top three finish nationally."
Both belated goals became reality as Larson earned regional honors, along with Maquoketa Speedway and East Moline Speedway track and Illinois state titles. He was third in final national standings, behind Chaz Baca and Matthew Day.
"Chaz had a good year and won a lot of races, so hats off to him. I know what he had to do to win it ­– it's a lot of work," Larson said. "In our national championship season two years ago, we made 62 starts in a Modified and 92 starts overall. I'm not going to do that again. It's like another job."
His 43 Modified starts this season took Larson to 10 different tracks. He'd win six times at Maquoketa and on four occasions at East Moline, with another three checkers at Lafayette County Speedway and a pair at Dubuque Fairgrounds Speedway.
"We won a lot of good races this year and we won some races that paid more than $2,000," Larson said. "Maquoketa is a high side track and so fast. East Moline is high-banked bounce off the wall and go. They're both tracks where I feel we're the car to beat and the highlight of the season was definitely getting my 100th win (on Aug. 13) and doing it at East Moline."
He turned back the clock in winning his first three of five starts at Darlington, another venue where he has an edge in experience.
"Lafayette County is definitely a one of a kind track. I've raced there since I was 19 and I'm 40 now," Larson said, "so I've got a lot of laps in there and know the tricks to getting extra speed on the straights."
The extra speed he'll need next year will be getting to his kids' school activities.
"We plan on following the Clash on the Coast but won't chase points in 2024," Larson said. "Our daughter Keeli will be a senior and son Brayden will be a freshman, Our youngest son Kamden is seven now and will be starting go karts. All their school activities will come first."
Wins 15
Top Five Finishes 29
Starts 43
HIS CREW: Shawn Kubatzke, Shawn Robertson, Ryan Duhme, Andrew Churchill, Ryan Steffen, Jarett Franzen, Rich Current, Thad Current, Mike Current, Spencer Diercks and Eric McDonough.
HIS SPONSORS: Bader Construction of Freeport; Hoker Trucking of Dixon, Iowa; Veach Farms of Andrew, Iowa; Timber Lanes, Eastern Iowa Overhead Door and Current Race Engines, all of Maquoketa, Iowa; Precision Transmission and Massey Marina, both of Dubuque, Iowa; Steffen Lawn Care of Peosta, Iowa;
Tegeler Body and Frame of Dyersville, Iowa; Rauen Precision Machine and Simon Cattle Company, both of Farley, Iowa; One Hall of a Shirt of Epworth, Iowa; Rage Chassis of West Union, Iowa; Performance Bodies of Cedar Falls, Iowa; Pimpin Detail Supplies of Waterloo, Iowa; People's Company of Iowa; Dynamic Drivelines and DTR Enterprises, both of Des Moines, Iowa; Tom Berry Jr. of Altoona, Iowa; McWelded Fabrication of Lone Rock, Wis.; and Hydrodig of Alberta, Canada.