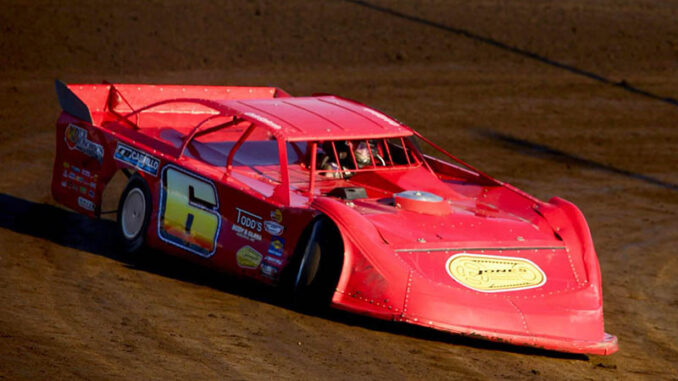 LINCOLN, Neb. (Nov. 14, 2023) – A season that started with admittedly low expectations instead resulted in Cade Richards racing into the IMCA record book.
Richards became the first IMCA driver to win national rookie of the year honors in three different divisions, following first-year honors for Friesen Performance Northern SportMods (2019) and IMCA Sunoco Stock Cars (2021) with the IMCA Sunoco Late Model rookie prize.
"We weren't expecting much but it turned out to be a pretty good year," said Richards, who turned 19 just before the end of the season and is in his first year studying toward a mechanical engineering degree at the University of Nebraska in his hometown of Lincoln. "I was racing for Al Humphrey in a 10-year-old Victory Circle Late Model we pulled out of a barn."
"We put in a lot of work right before the start of the season to get it ready," he continued. "I've raced a Stock Car and made maybe 15 Modified starts the last two years so the big transition was learning the car. There wasn't much tech help available with it being so old so it took me a while to get comfortable."
His one finish outside the top five was a DNF and preceded Richards' first win in the class on June 30 at Crawford County Speedway.
"I started eighth that night, the track was racy and I was able to get to the front," he said. "It was exciting. I didn't expect to have that degree of success so quickly."
"I kept racing, kept improving and had a lot of fun."
He'd finish with five feature wins, two each at Crawford County and Shelby County Speedway and one at Off Road Speedway. Richards will add his latest rookie of the year hardware to the display in the trophy case at his home office.
"It's really exciting to be the first driver to win three national rookie of the year awards, and we did well in points every year we won them," said Richards, fourth in national standings this season. "I think that shows just how good our team has been."
Race plans for 2024 remain TBD as he currently juggles college with an R & D engineering internship at Speedway Motors.
"It's been exciting to use Junior National Champion scholarship money toward my tuition," said Richards. "That's been a nice bonus I've been able to use from IMCA."
Nine other drivers have won rookie of the year honors in two divisions during their own careers.
Wins 5
Top Five Finishes 25
Starts 26
HIS CREW: Parents Matt and Jessica Richards, Al and Lori Humphrey, Tony Orender and Randy Husak.
HIS SPONSORS: Humphrey Racing of Giltner; Speedway Motors, Lincoln Capital & Unified Employee Benefits, Richards Machine and CRR Technology, all of Lincoln; Roto Reef and Raw Materials, both of Omaha; Extreme Ag of Cambridge; Extreme Motorsports of Beatrice; Filley Custom Powder Coating of Filley; CBLLC of Exeter; Subway-Rosberg Management Group of Nebraska; Bob Harris Enterprises and Race Tech Info, both of Ames, Iowa; Dynamic Drivelines of Des Moines, Iowa; AFCO of Boonville, Ind.; Qualcast of Nashville, Tenn.; Jones Racing Products, Ottsville, Pa.; J & K Trucking of Aurora, Colo.; CP Carrillo of Irvine, Calif.; Tilton Engineering of Buellton, Calif.; Swift Springs of Chino Hills, Calif.; SCAT Crankshafts of Redondo Beach, Calif.; and JAZ Products of Santa Paula, Calif.