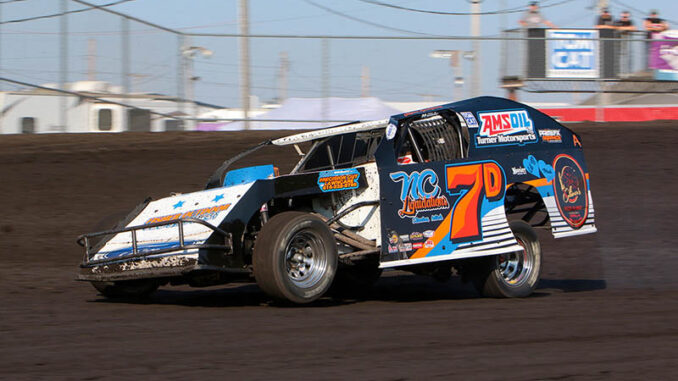 STANTON, Mich. (Nov. 14, 2023) – A winner every season he's raced a Friesen Performance IMCA Modified, Myron DeYoung continued one streak and started another in 2023.
DeYoung won 14 features this season, his record-tying 29th straight with at least one weekly sanctioned victory. Those checkers and consistent top-five finishes helped the Stanton, Mich., driver earn his career-first DeVilbiss Racing Eastern Region championship.
"It feels really good. We tried really hard for the region in 1996 or 1997, wrecked a couple cars, didn't finish the season and really haven't run for it since," said DeYoung, at 51 the oldest Modified driver to win their first regional title. "I'm glad we stuck with it and glad we won it."
"A regional championship is something, for sure, You don't realize how special it is until you've done it," he continued. "And now that we've won the region once, maybe we can do it again next year."
Now 27th on the all-time divisional list with 143 wins, DeYoung won both the Crystal Motor Speedway track and Michigan State titles for the seventh time. After a solid start, 11 of his 2023 checkers would come after the Independence Day holiday.
"We got a new Harris car this year and I knew from opening night that it was going to be a very good car. We were really close the first half of the season. We had three wins and a lot of seconds and thirds," explained DeYoung, who ran with son Brenten much of the year. "A lot of the credit goes to Kyle Brown and Mark Elliott ­– I called them the Monday after our first race, told them this was going to be a good car and they helped us set up this car to suit my driving style."
A third generation driver, he'd total nine wins at Crystal, three at Tri-City Motor Speedway and one each at Merritt Speedway and Winston Speedway. DeYoung shares a shop just outside Crystal, some three miles from the track, with son and fellow Modified driver Brenten.
"Crystal has been our home track for years. I started racing a Modified there in 1995, the year Rick Stout won the national championship. Racing with him made us all better," said DeYoung, already looking ahead to his 30th IMCA season. "Back then I kind of figured I'd be racing for a while. I didn't think I wouldn't still be racing after all these years."
Another big winner this season was DeYoung's canine crew member Fred, a 180-pound Bull Mastiff/Red Retriever mix who got a steak dinner every Sunday after his owner took another checkered.
Wins 14
Top Five Finishes 34
Starts 41
HIS CREW: Jeff Green, Neil Fisher, son Brenten, granddaughter Blakely, girlfriend Kristin Hansen Cole Speckin and Madi Gilman.
HIS SPONSORS: The Corner Market, Well & Septic Inspection Services, NC Liquidations and Country Pets & Grooming Salon, all of Stanton; Prime FX Graphics of Vestaburg; Fisher Wood Stove Services, Amsoil by Turner and Oliver's Pizza Planet, all of Crystal; Precision Lawn Care of Sheridan; Lucky Stars of Elwell; Dirt Star Pull Rods of Taylor Ridge, Ill.; Harris Auto Racing of Boone, Iowa; and Tomcat Performance of Mooresville, N.C.