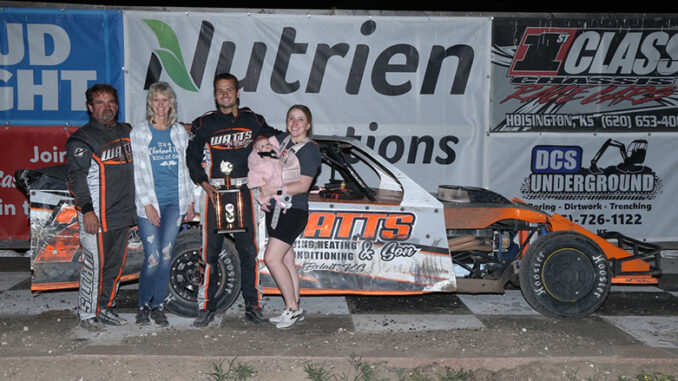 By Sheldon Wickwar
HAYS, Kan. (Sept. 16, 2023) – Track champions were crowned in five IMCA divisions Saturday evening at RPM Speedway.
Tim Watts was scooting away with the lead while a four-wide battle broke out early for second in the Friesen Performance IMCA Modified main. Brett Smith took charge after a restart but Clay Sellard quickly found his way to the front.
Point leader Dylan Sherfick was part of a three-car tangle and went to the pits for the rest of the night before Sellard brought the field to a restart with 12 laps to go. Dakota Sproul found some speed on the top side off the restart and started to close the gap behind the leader.
The field would single file out in the closing laps, as Sellard was able to pull away from runner-up Sproul to grab the win. Daniel Gottschalk, Jake Nightingale and Brett Smith rounded out the top five.
Despite getting caught up in an early wreck, Sherfick held good points lead to pick up the track championship.
Troy Burkhart held the early lead in the IMCA Sunoco Stock Car feature while son Tathan shot to third and looked underneath second running Jason Rogers.
With five laps to go, Tathan started closing in. The white flag flew for the Burkharts as they were side-by-side at the stripe but it was Troy picking up the feature win, second was Tathan, third was Rogers, fourth was Kyle Pfeifer and fifth was David Murray Jr. Tathan Burkhart gained two spots while on his way to win his track title.
Brendyn Nordyke took lead early in the Friesen Performance IMCA Northern SportMod feature as Jack Kirchoff got to second.
Chad Dolan rebounded from an early incident to get to fifth place with six laps to go. Peter Kullman went for a spin in turn three with five laps to go, and his night was over.
That set up a late-race restart and put Blaine Walt and Nordyke right behind Tyler Watts. With four laps to go they were side-by-side as Walt slid across Watts' nose out of turn four to grab the lead with three laps to go.
With two laps left, Watts threw a slider in three but Walt crossed him over. On the final lap, Watts threw one more slider in turns three and four and Walt was unable to cross him over. Watts won the feature and track championship.
Second was Walt, third was Dolan, fourth was Nordyke and fifth was Ryan Kirchoff.
Morgan Olmstead led early in the IMCA Sunoco Hobby Stock feature over hard charging Cody Williams and Zach Olmstead.
At halfway, Williams took the lead and Zach Olmstead got by his brother Morgan as well. Zach Olmstead tried to find a way around but three cautions slowed those attempts.
With six to go, Williams led the field to a restart and started walking away from the Olmstead brothers. He'd hold on for the checkers in a green, white, checkered finish. Second was Morgan Olmstead, track champion Zach Olmstead was third, fourth was Tyler Heath and fifth was Deric Funk.
Three tries were needed to get the Mach-1 IMCA Sport Compact feature started before Kiowa Higdon used the top side of the raceway to grab the lead.
Numerous side-by-side battles would break out behind Higdon and at halfway Dave Kappel, Callee Gaston, Branston Arnder Jr. and Kaishen Brack were running behind him.
Higdon went on to win the feature along with the track championship. Second was Kappel, third was Gaston, fourth was Arnder and Stephen Stiteler finished fifth.