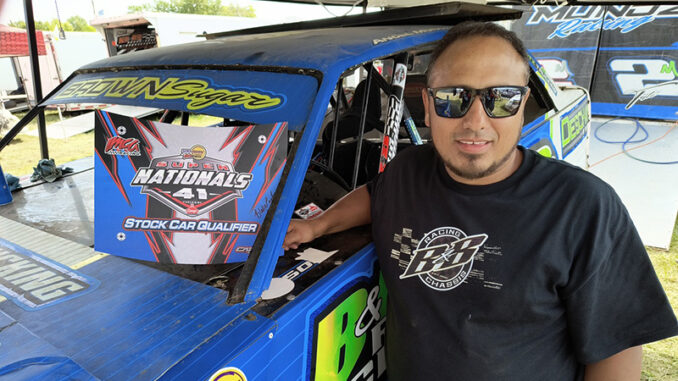 LAMAR, Colo. – After he rolled under the radar into Boone Speedway, Angel Munoz raced his way into Saturday's Big Dance.
From Lamar, Munoz was runner-up in the first qualifying feature on Wednesday night, becoming the first driver from Colorado to earn a starting spot in the Stock Car main event since the division was added to the IMCA Speedway Motors Super Nationals fueled by Casey's program in 1988.
"It's hard to explain how special this is. We only see this atmosphere once a year. Being a one-car operation, it's awesome to know we can be competitive," said Munoz. "We didn't let the fact that there were 259 other Stock Cars here distract us. It's an honor to be one of the top 30 guys on the stage."
Munoz is going on 11 years in The Class Too Tough To Tame and had 22 starts this season before running fifth in the Wild Rose Casino Double Down Prelude that led up to Super Nationals.
"I've been kind of a one-man band this year," said Munoz, who began the year in Texas at the Sunoco Race Fuels Lone Star Tour and followed the Dakota Classic Tour in between outings in Iowa, Kansas, Minnesota and Nebraska. "We didn't even decide to come to Super Nationals until late August."
"I don't know if I have even finished a race here before. We've put more tires and radiators on our car, it's never been a pleasant experience racing the last five times we were here," he added. "We came to Boone with the mindset that we were coming to do business. We didn't post on Facebook that we were coming and kind of rolled in under the radar."
"It was all about the race."
He won his heat, the second of 30 that day, and started 14th in his qualifier that evening.
"I knew we had a chance and I just had to be patient. By lap six I was already in the top five and I had to tell myself to slow down," said Munoz, who would lead five laps before giving way to eventual winner Damon Murty. "We were top five at the Prelude and made no changes to the car (a 2023 B & B) before Super Nationals. It never felt as balanced as it did when we pulled in the gate at Boone."
Munoz made the trip with cousin Devyn Kincade, Seth Eldridge and Charlie Cook, who raced a Hobby Stock. His family was Boone Bound to watch him race (and finish 21st) in the Saturday show.
"What I like best about the IMCA Stock Cars is the competition, the door-to-door racing," said the driver nicknamed Brown Sugar. "Whether you win or lose, you win or lose by inches and not car lengths. Eighty percent of our races are like that."