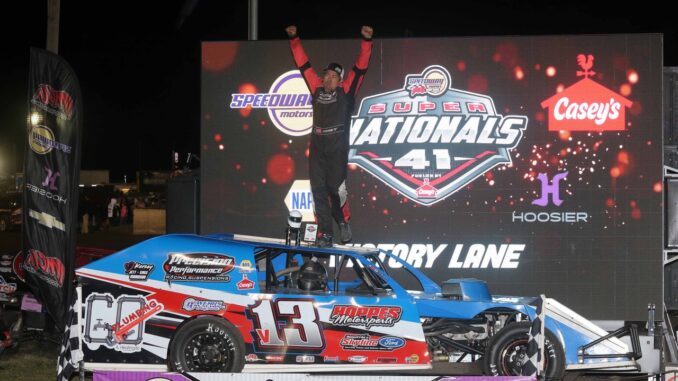 BOONE, Iowa (Sept. 7, 2023) – Grey Ferrando had a pretty good night.
Dallon Murty's was even better.
Ferrando made the trip to Oregon for the IMCA Speedway Motors Super Nationals fueled by Casey's and won Thursday's first Modified qualifying feature. Murty, from much closer Chelsea and winner of the B & B Racing Chassis All-Star Invitational earlier in the evening, prevailed in a nightcap that saw its share of excitement and more in the final laps.
Ryan McDaniel, Lucas Lamberies and Jordan Grabouski finished behind Ferrando, Tripp Gaylord, Jerry Flippo and Chris Abelson behind Murty. All advance to the middle row of Saturday's Big Dance at Boone Speedway.
The pole starter, Ferrando led all 25 laps, holding on to the front spot despite four restarts over the last half of the race. McDaniel and Lamberies swapped second seven times before the Californian settled in for good with six to go and Grabouski had just enough oomph left to outrun Chaz Baca for the final transfer.
"I was just trying to be smooth and hit my marks," said Ferrando. "This is awesome. It's my fourth time in the main event and I think we've got a shot on Saturday night."
Murty ran second behind John Parmeley the first four laps and first the rest of the way. Tripp Gaylord chased Murty most of that distance and was also out of harm's way when top four contenders Jeff Larson and Austen Becerra tangled late in the middle of the second set of turns.
Flippo somehow avoided becoming part of that get-together while Abelson's drive from 14th and quick move to avoid any contact was rewarded with the final transfer spot.
"This is amazing," Murty would say later from victory lane. "I'm pretty speechless but to do this is awesome. I figured the quicker I could get around the better. To win the All-Star race and then this is unreal."
Starting order for Saturday's middle row will be decided by cornhole contests Friday in the NAPA Fan Zone.
IMCA.TV broadcasts the entire week of the 41st annual IMCA Speedway Motors Super Nationals fueled by Casey's.
1st qualifying feature results – 1. Grey Ferrando, Stayton, Ore.; 2. Ryan McDaniel, Olivehurst, Calif.; 3. Lucas Lamberies, Clintonville, Wis.; 4. Jordan Grabouski, Beatrice, Neb.; 5. Chaz Baca, Mesa, Ariz.; 6. Zack VanderBeek, New Sharon; 7. Kyle Robinson, Pilot Point, Texas; 8. Josh Gilman, Earlham; 9. Ryan Gillmore, Springfield, Mo.; 10. Brady Bjella, Williston, N.D.; 11. Travis Hagen, Williston, N.D.; 12. Matt Bonine, Onawa; 13. Jake Pike, Pahrump, Nev.; 14. Adam Hommerding, Lake Havasu City, Ariz.; 15. Tanner Black, Otis, Kan.; 16. Joel Bushore, Boone; 17. Riley Simmons, Susanville, Calif.; 18. Jeff Aikey, Cedar Falls; 19. Dustin Wilwert, Dubuque; 20. Cody Knecht, Whittemore; 21. Ronn Lauritzen, LaPorte City; 22. Kade Ogle, Lubbock, Texas; 23. Robert Moore. Maxwell; 24. Dave Pedersen, Brady, Neb.; 25. Johnathon Logue, Logansport; 26. J.T. Goodson, Little Rock, Ark.; 27. Jeremy Baker, Nebraska City, Neb.; 28. Clay Money, Penokee, Kan.; 29. Mitchell Hunt, Lakeview, Mich.; 30. Justin Medler, Minot, N.D.
2nd qualifying feature results – 1. Dallon Murty, Chelsea; 2. Tripp Gaylord, Lakewood, Colo.; 3. Jerry Flippo, Clear Lake; 4. Chris Abelson, Sioux City; 5. Dakota Sproul, Hays, Kan.; 6. Justin O'Brien, West Union; 7. Brandon Schmitt, Beaver Dam, Wis.; 8. Matthew Day, Farmersville, Texas; 9. Justen Yeager, Green River, Wy.; 10. Brandon Beckendorf, Danube, Minn.; 11. Jay Noteboom, Hinton; 12. Cory Wray, Trenton, Mo.; 13. Josh Long, Little Suamico, Wis.; 14. Steven Whiteaker Jr., Robstown, Texas; 15. Vince Ogle, Lubbock; 16. Scott Simatovich, State Center; 17. Chris Palsrok, Estherville; 18. R.J. Merchant, South Sioux City, Neb.; 19. Dan Menk, Franklin, Minn.; 20. Brenten DeYoung, Crystal, Mich.; 21. Jake Nightingale, Hutchinson, Kan.; 22. Jeremy Richey, Medford, Ore.; 23. Paul Guglielmoni, Vacaville, Calif.; 24. Jeff Larson, Freeport, Ill.; 25. Austen Becerra, Carthage, Ill.; 26. Jeremie Hedrick, Clintonville, Wis.; 27. John Parmeley, Phoenix, Ariz.; 28. Troy Foulger, Oakley, Calif.; 29. Nick Roberts, Des Moines; 30. Jacob Hobscheidt, Plattsmouth, Neb.