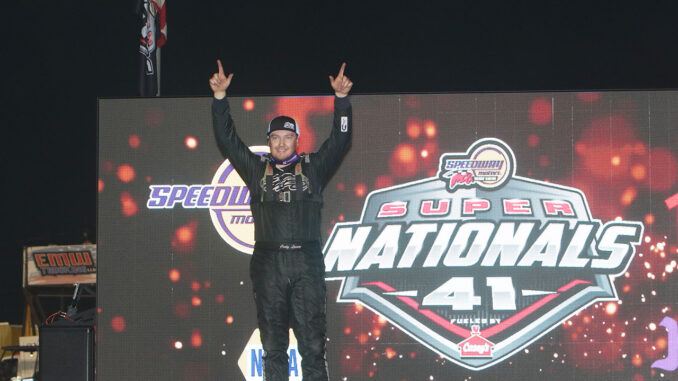 BOONE, Iowa (Sept. 6, 2023) – A couple drivers with California connections saw their IMCA Speedway Motors Super Nationals fueled by Casey's dreamin' become closer to reality.
Dylan Thornton, late of Orcutt, and Cody Laney of Torrance both won features as Modified qualifying began Wednesday night. One of the two will sit on the pole for the start of Saturday's Big Dance at Boone Speedway
Thornton, the 2022 pole starter, won the first qualifier ahead of Austin Kuehl, 2011 and 2017 champion Richie Gustin, and Ricky Alvarado while Laney, the 2021 Super Nationals champ, took the checkers ahead of last year's runner-up Kollin Hibdon, Zane DeVilbiss and 2010 champ Jimmy Gustin.
All eight advance to the inside row of the main event starting grid. Two hundred and twenty-eight Modifieds vied Wednesday, helping bring the total car count for the 41st annual Super Nationals to a record 1,013.
Thornton chased leader Kuehl up to the back of the field by the 13th of 25 laps and emerged with the front spot the next time around.
A frenetic pace that began following a lap four restart continued all the way to the green flag. The top four runners dodged and weaved through traffic with Thornton ultimately collecting the W.
"I knew the 77 (Arizonan Kuehl) was good at the start. I was just patient at the beginning and slid for the lead," he said. "I had a really good car, a Harris, and this was my first win in it," he said from victory lane. "I just kept telling myself it was a long race, I knew who I was racing with, and that I needed to be able to capitalize if they made a mistake."
Laney stayed patient and made no mistakes in racing from ninth in the second feature.
He was up to third just five laps in and all of a sudden in second when lap 10 was scored, passing race-long leader DeVilbiss with four to go. Hibdon found the fastest line coming to the stripe, edging DeVilbiss by four thousandth's of a second for runner-up honors.
"I saw him (DeVilbiss) being kind of conservative with lapped cars. That's hard not to do when you're leading," Laney said. "I was kind of banzaiing there at the top, got to him at the right time when he got jammed up, and got by him."
Modified and Stock Car qualifying continues Thursday at Boone, along with the B & B Racing Chassis All-Star Invitational for Stock Cars.
IMCA.TV broadcasts the entire week of the IMCA Speedway Motors Super Nationals fueled by Casey's.
1st qualifying feature results – 1. Dylan Thornton, Keystone; 2. Austin Kuehl, Cave Creek, Ariz.; 3. Richie Gustin, Gilman; 4. Ricky Alvarado, Hotchkiss, Colo.; 5. Troy Cordes, Dunkerton; 6. Travis Hagen, Williston, N.D.; 7. Tanner Black, Otis, Kan.; 8. Tim Ward, Harcourt; 9. Jeremy Mills, Clear Lake; 10. Cody Thompson, Sioux City; 11. Jeff Wiggins, Greenfield; 12. Cole Czarneski, Denmark, Wis.; 13. Benji LaCrosse, Casco, Wis.; 14. Brandon Beckendorf, Danube, Minn.; 15. Jim Thies, Mapleton; 16. Jake Upchurch, Red Oak, Texas; 17. Jonathan Mawhinney, Las Vegas, Nev.; 18. Dyllan Ricks, Boyden; 19. Clint Hatlestad, Glencoe, Minn.; 20. Kaden Cochrun, Bakersfield, Calif.; 21. Bob Moore, Sioux City; 22. Aaron Johnson, Brainerd, Minn.; 23. Beau Collins, Savoy, Texas; 24. Trey Duensing, Byron, Neb.; 25. Adam Crapser, Brookfield, Wis.; 26. Dan Roedl, Beaver Dam, Wis.; 27. Ryan Williams, Waxahachie, Texas; 28. Terry Hurt, Omaha, Neb.; 29. Lucas Lamberies, Clintonville, Wis.; 30. Dakota Sproul, Hays, Kan.
2nd qualifying feature results – 1. Cody Laney, Torrance, Calif.; 2. Kollin Hibdon, Pahrump, Nev.; 3. Zane DeVilbiss, Farmington, N.M.; 4. Jimmy Gustin, Marshalltown; 5. Brady Bjella, Williston, N.D.; 6. Tom Berry Jr., Des Moines; 7. John Webb, Pauls Valley, Okla.; 8. Braxton Yeager, Green River, Wy.; 9. Nick Meyer, Whittemore; 10. Ryan Gillmore, Springfield, Mo.; 11. Jake Nightingale, Hutchinson, Kan.; 12. Jeff Aikey, Cedar Falls; 13. Chris Morris, Taylor, Texas; 14. Paul Stone, Winton, Calif.; 15. Ethan Robey, Ames; 16. Troy Morris III, Bakersfield, Calif.; 17. Kyle Wisdom, Abilene, Texas; 18. Jake Pike, Pahrump, Nev.; 19. Johnathon Logue, Logansport; 20. Jaxon Saathoff, Beatrice, Neb.; 21. Zack VanderBeek, New Sharon; 22. Cory Sauerman, Johnston; 23. Myron DeYoung, Crystal, Mich.; 24. Curtis Barnes, Lindsborg, Kan.; 25. David Brown, Kellogg; 26. Jesse Sobbing, Malvern; 27. Tony Wedelstadt, Combined Locks, Wis.; 28. Eddie Sites, Towanda, Pa.; 29. Josh McGaha, Abilene, Texas; 30. Kyle Brown, Madrid.