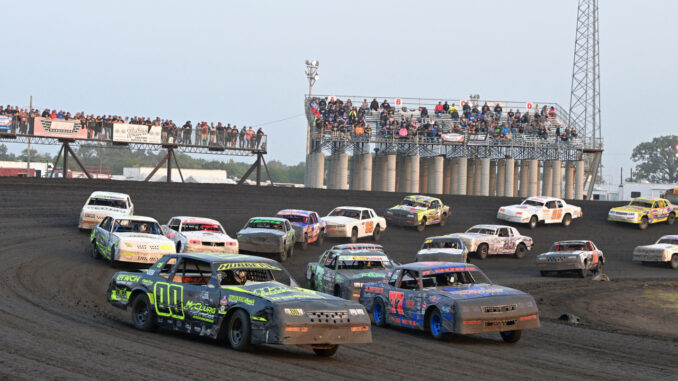 BOONE, Iowa (Sept. 6, 2023) – Cody Hubbell and Cam Reimers both led from the first lap to the last lap in winning their respective IMCA Speedway Motors Super Nationals fueled by Casey's last-chance qualifiers Wednesday at Boone Speedway.
Hubbell won the Hobby Stock 25-lapper ahead of Andrew Burk, Tanner Jones, 19th starting Luke Bedford, defending champion Zach Olmstead and Brandon Bombardo.
Olmstead had started 24th; Bombardo had been scored seventh and was promoted up to the final qualifying spot by the post-race disqualification of Jason Kohl.
Reimers prevailed in another 25-lapper as the Northern SportMods ended their last-chance race with 16 fast green flag circuits.
Following him across the stripe and into the back two rows of Saturday's main event field were Logan Anderson, Taylor Kuehl, Cory Pestotnik, Mitchell Morris and defending champion Matt Looft.
IMCA.TV broadcasts the entire week of the 41st annual IMCA Speedway Motors Super Nationals fueled by Casey's.
Hobby Stock last-chance feature results – 1. Cody Hubbell, Rolfe; 2. Andrew Burk, Milan, Ill.; 3. Tanner Jones, Boone; 4. Luke Ramsey, Bedford; 5. Zach Olmstead, Overton, Neb.; 6. Brandon Bombardo, New Prague, Minn.; 7. Andy Hoffman, Sioux City; 8. Michael Kimm, Vinton; 9. David Norquest, York, Neb.; 10. Rusty Bates, Casey; 11. Zach Hemmingsen, Marne; 12. Steve Bitting Jr., Phoenix, Ariz.; 13. Rob Durfee, North Platte, Neb.; 14. Jeremy Kinsey, Henderson, Neb.; 15. Shane Richardson, Wapello; 16. Matt Wahl, Des Moines; 17. Kyle Parizek, Hartwick; 18. Jim Ball Jr., Independence; 19. Austin Lundquist, Sioux City; 20. Andrew Burg, Maricopa, Ariz.; 21. Kalyb Brunssen, Le Mars; 22. Joe Doran, Paton; 23. Curt Reed, Des Moines; 24. Seth Janssen, Ogden; 25. Mark Neis, Benton, Wis.; 26. Jason Wilkinson, Neligh, Neb.
Northern SportMod last-chance feature results – 1. Cam Reimers, Kelley; 2. Logan Anderson, Eddyville; 3. Taylor Kuehl, Cave Creek, Ariz.; 4. Cory Pestotnik, Boone; 5. Mitchell Morris, St. Charles; 6. Matthew Looft, Swea City; 7. Carter VanDenBerg, Oskaloosa; 8. Spencer Galaway, York, Neb.; 9. Brady Hilmer, Dysart; 10. Charlie Stevens, Algona; 11. Derek Murphy, Colorado Springs, Colo.; 12. Jacob Tacheny, Burt; 13. Tim Eaton, St. Joseph, Mo.; 14. Joe Reetz, Dunlap; 15. Brian Schrage, Cresco; 16. Chris Burke, Altoona; 17. Logan Veloz, Colona, Ill.; 18. Josh Appel, Garner; 19. Troy Bayne, Hershey, Neb.; 20. Jason Bannister, Bakersfield, Calif.; 21. Skyler Woods, Beaver Dam, Wis.; 22. Bryan Morris, St. Charles; 23. Ryan King, Colo; 24. Joe Docekal, Dysart; 25. Mark Saathoff, Beatrice, Neb.; 26. Brett Thomas, Walker; 27. Garrett Nelson, Osceola; 28. Colton Keel, Anna, Texas.