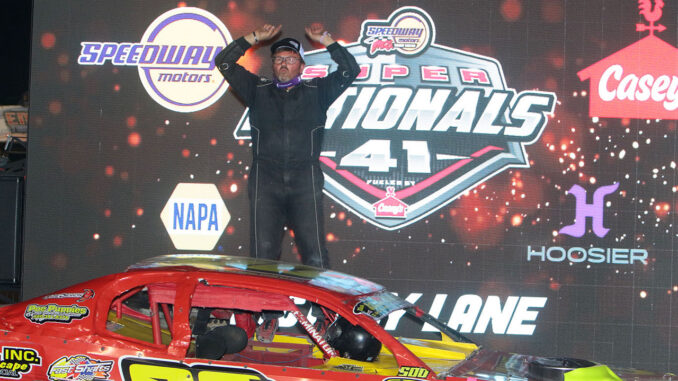 BOONE, Iowa (Sept. 6, 2023) – A driver's who's been there and done that will try to do it again Saturday night, while another driver who's been there and come close will try to win his first IMCA Speedway Motors Super Nationals fueled by Casey's championship.
Damon Murty, who counts the 2018 championship among 18 career appearances in the main event, and Jeffrey Larson, who fourth in the 2015 Big Dance, won qualifying features Wednesday night at Boone Speedway.
A record 257 Stock Cars are included in another record total, the 1,013 cars that have seen Super Nationals action this week at Iowa's Action Track.
Murty led a parade of hard chargers to the front of the first qualifier, winning from 18th. Mike Albertsen, Matt Looft and Jesse Sobbing had jockeyed over first before 14th starting Angel Munoz motored by Sobbing after the first of four restarts after halfway.
Murty lived up to his Chelsea Charger nickname with three to go, charging past Berry and then Munoz for the lead and the win. Munoz, the 21st starting Berry and Sobbing followed at the finish.
"I knew I had the car to win but I didn't know if I was going to have enough laps to do it," said Murty. "I was almost thinking I'd rather run sixth and try again tomorrow to be on the front row, but I had a fast hot rod."
Munoz became the first Colorado driver to qualify for the main event since Stock Cars were added to the Super Nationals slate in 1988; Berry is the defending Modified champion.
Larson, who'd raced to his career-best finish at Boone the night Dustin won a Super Nationals crown, ran top five before and top three after the rash of mid-race cautions that slowed qualifier number two.
2005 Modified champion Benji LaCrosse and then 2018 Jake McBirnie took turns up front and McBirnie looked to have the race in hand before his engine gave up the ghost and he drove off the first set of turns in a cloud of smoke with five laps left.
LaCrosse got the lead back but lost power following the restart and fell off the pace. Larson pounced, driving around on the higher line and took the checkers with Tyler Frye in pursuit.
The 20th starting Jonathon Logue, a multi-time SportMod champion, and Miciah Hidlebaugh would be promoted to top four spots after DQs of Mitch Meier and then TeJay Mielke.
"I didn't have anything for Jake but knew I was a little better than Benji. Unfortunately for Jake, he blew up," Larson said. "Benji kept rolling the bottom in one and two. I found my mark there on that last yellow flag (on lap 21) and was like 'I'm going to bury it in there.'"
"I knew I could get a run down the backstretch. We'll throw a slider and see what happens."
Who starts where on the inside row come Saturday night will be determined by friendly games of cornhole on Thursday at the NAPA Fan Zone south of the main grandstand.
IMCA.TV broadcasts the entire week of the Sept. 4-9 IMCA Speedway Motors Super Nationals fueled by Casey's.
1st qualifying feature results – 1. Damon Murty, Chelsea; 2. Angel Munoz, Lamar, Colo.; 3. Tom Berry Jr., Des Moines; 4. Jesse Sobbing, Malvern; 5. Matthew Looft, Swea City; 6. Troy Jerovetz, Iowa Falls; 7. Mike Albertsen, Audubon; 8. Devin Tripp, Sioux Rapids; 9. Brett Vanous, Quasqueton; 10. Mike Vandermark Jr., Cedar Springs, Mich.; 11. Elijah Zevenbergen, Ocheyedan; 12. Clint Forstner, Shiocton, Wis.; 13. Timothy DeGroft Jr., Elwell, Mich.; 14. Tim Czarneski, Denmark, Wis.; 15. Chase Parker, Hortonville, Wis.; 16. Ty Hill, Winterset; 17. Darin Toot, Albert Lea, Minn.; 18. Stefan Sybesma, Sanborn; 19. Jeff Mueller, Boone; 20. Gregory Muirhead, Mabank, Texas; 21. Jeremy Richey, Medford, Ore.; 22. Jim Horejsi, Marshall, Minn.; 23. Mich Ross, Maysville, Mo.; 24. Mitchell Evens, Dubuque; 25. Robbie Thome, Spalding, Neb.; 26. Kaden Reynolds, Cedar Rapids; 27. Josh Most, Red Oak; 28. Dallon Murty, Chelsea; 29. Paul Wenzlaff, Yankton, S.D.; 30. Trent Nolan, Shawano, Wis.
2nd qualifying feature results – 1. Jeffrey Larson, Reading, Minn.; 2. Tyler Frye, Belleville, Kan.; 3. Johnathon Logue, Logansport; 4. Miciah Hidlebaugh, Menlo; 5. Jared Siefert, Luxemburg, Wis.; 6. Troy Burkhart, Hays, Kan.; 7. JJ Baumli, Lathrop, Mo.; 8. Jake Sachau, Manning; 9. Nick Roberts, Des Moines; 10. Benji LaCrosse, Casco, Wis.; 11. Michael Jaennette, Kellogg; 12. William Gould, Calera, Okla.; 13. Chris Pruitt, Stuart; 14. Cody Gustoff, Scranton; 15. Paul Stone, Winton, Calif.; 16. Austin Brauner, Platte Center, Neb.; 17. Chanse Hollatz, Clear Lake; 18. Jayden Bears, Kansas City, Mo.; 19. Scott Olson, Blairsburg; 20. Larry Robinson Jr., Underwood; 21. 1Chad Krogmeier, Burlington; 22. Derek Moede, New Franken, Wis.; 23. Tyler Pickett, Boone; 24. Jake McBirnie, Boone; 25. Kelly Shryock, Fertile; 26. Braden Richards, Madrid; 27. Kevin Opheim, Mason City; 28. Devin Snellenberger, Pulaski, Wis.