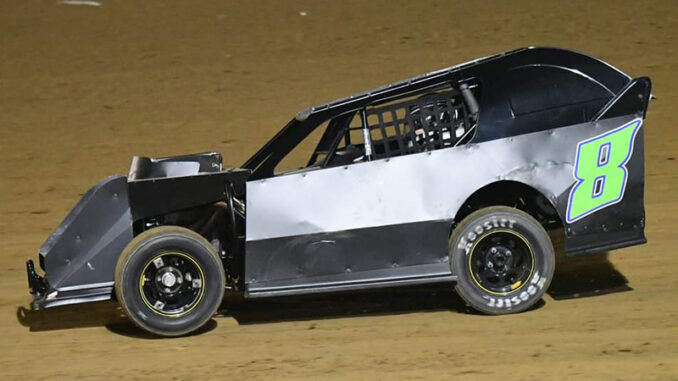 COOKEVILLE, Tenn. (Aug. 28, 2023) – Ronnie Choate has already won one Stealth Racing IMCA STARS Mod Lite Nationals event this season.
Winning a second one would be Super.
The Cookeville driver is among the half dozen Boone Bound Tennessee entries for the upcoming IMCA Speedway Motors Super Nationals fueled by Casey's and will be looking to improve seven positions on his eighth place finish in 2022.
"Last year was the first we'd ever seen the track. We might know a little more about it this year. The dirt there changes so much and so quick and that was different for us for sure," said Choate, much more accustomed to racing on red clay closer to home. "I think we're going to Boone with as good a shot as anybody."
"We've got to make it into the feature first. Then we'll try to win it."
He'd started the main from 20th last year. Eleven states were represented in that event during the Mod Lites' second appearance during the Sunday Prelude at Boone Speedway.
"We'd seen posts from people saying you needed to go to Super Nationals for the experience and the atmosphere," he said. "The Three Wide Start was an experience."
"It would mean a lot to us to win Super Nationals," added Choate, who already counts the rich Memorial Weekend Nationals at Clarksville Speedway among his 10 checkers this season. "The best in the business will be at Boone and we want to run with the best. To go some place that you don't race at very often and win would be pretty awesome."
Choate got his introduction to dirt track racing going to watch grandfather Bob Spears wheel and "somehow ended up in it" himself. He ran in a local Chevette class before finding success in the Late Models.
Now a seven-year veteran of the Mod Lite division, he and brother-in-law/crew chief Logan Rittenberry have owned and operated Precision Bulldog Chassis for the past year and a half.
"It's something we do in our spare time," Choate said with a laugh. "He has his own business and I have my own auto body business. We don't have a lot of spare time."
Choate scored his first STARS Mod Lite feature win under the IMCA sanction at the 2022 Sugar Bowl Winter Nationals in Clewiston, Fla. Seven of his wins so far in 2023 have come with the Tennessee Mod Lite Racing Association.
He comes to Super Nationals leading both TMLRA standings and the Kentucky State points race.
"We haven't had bad luck, we've got the car right and that credit goes to Logan," said Choate, who will start the 12-hour tow after work on Friday and pull into Iowa's Action Track some time Saturday morning. "We've been fast wherever we went and that's what we want to do at Boone."