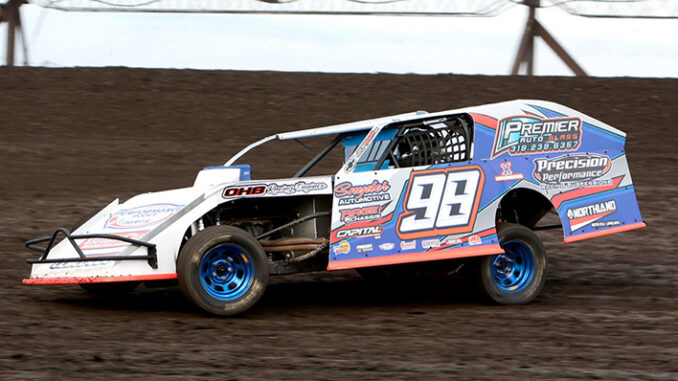 DUNKERTON, Iowa (Aug. 24, 2023) – Jacob Snyder will rack up the miles getting in laps at the upcoming IMCA Speedway Motors Super Nationals fueled by Casey's.
The Dunkerton High School senior and fourth-year Friesen Performance IMCA Modified driver will balance classes and football with racing, making his first trip to Boone Speedway for the Double Down Prelude and then driving back to Boone and two hours home again early the next morning once qualifying starts on Sept. 6.
"It would be nice to win my heat race and do well in my feature," said Snyder, 17, who acknowledged he can make the week a lot easier by racing his way into the Big Dance Wednesday or Thursday. "I want to get some more laps in at Boone and just have fun while I'm there."
The son of long-time Modified hotshoe and now crew chief Jason Snyder, Jacob will line up as an offensive tackle and defensive end while handling kicking and punting chores for a Dunkerton Raider team that figures to have a strong season in the state's 8-man ranks.
A four-sport athlete, he interrupted the current racing season for more than a month to play baseball and motored to a career-best second place finish at Benton County Speedway in just his third night back on the track.
"I like the difficulty of driving a Modified. It's fun to drive an open wheel car," said Snyder, whose previous experience on dirt came in a handful of go-kart starts. "Getting in more laps has a lot to do with the improvement I've made this year. You've got to drive hard, trust your equipment and see what works and what doesn't."
Most of his starts this season have come at Vinton, with six, and five at Independence Motor Speedway. He also ran with a lot of the big names in the division and qualified for the Rage Chassis 40 main event.
"It was definitely a challenge to get in that feature. I don't have a lot of laps in at Fayette County Speedway," Snyder said. "It's been fun to race with a lot of the veteran drivers. I think I've earned their respect. They definitely know what they're doing."
His dad, who says he's having more fun being a crew chief and bad decision maker than he ever did racing himself, has been impressed with how Jacob has learned on the track and turned that new knowledge into better finishes.
"He's giving me better feedback, he's gotten more competitive racing with the Joel Rusts and Troy Cordes', and he raced side-by-side a couple laps with Dave Stremme the night he was in Vinton," Jason said. "The communication is starting to come, and one of the good things about races being om IMCA.TV is that he can go back and watch the replay and study his race."
Snyder's Friday night game during Super Nationals Week is away, at GMG High School. After the final whistle, he'll high tail it from Garwin the 70 miles to Boone to hopefully catch his heat race that evening.