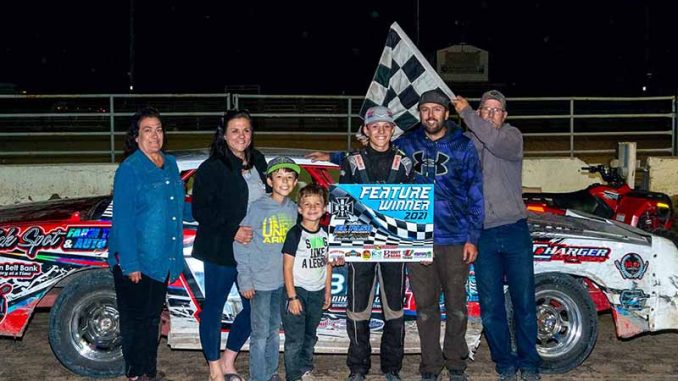 BRUSH, Colo. – Hunter Smith's first IMCA Sunoco Hobby Stock season has already taken him to nine tracks in Colorado, Kansas and Nebraska. 
Track number 10 will be Boone Speedway, where the 14-year-old rookie charger will test his skills against the best of the best at the IMCA Speedway Motors Super Nationals fueled by Casey's.
"Our goal is to make the Saturday night feature. If we can do that, I'll be happy," the national rookie of the year point leader said. "The best of the best race at Super Nationals so I think making the main event would be amazing."
While the freshman-to-be at hometown Brush Colo., is a third-generation driver, the 2021 season is also his first racing anything, two wheels or four. His grandfather Rich raced on pavement while father and now crew chief/tow rig driver Zach raced a Stock Car.
"I'd always been around racing. We saw a good car (a 2020 Charger Chassis) for sale, bought that and are doing better than we expected," Smith said. "Our first goal was to be up there in rookie of the year standings. Once we did that our goal was to stay in first."
In the top 20 nationally, Smith is the current points leader at El Paso County Raceway and I-76 Speedway and sits atop KMJ Performance Colorado State standings as well.
Already the Colorado Alliance Tour champion, he came into August with five feature wins and another 18 top five finishes in his first 35 starts. Career win number one came on May 8 at El Paso County.
"I never expected that we'd win so soon. We'd gone to Colby the night before and ripped the rear end out," Smith said. "My dad and a buddy changed it for the next night and I told him I wanted to go out and win it and I did."
"I was in shock," he admitted. "There were a whole bunch of guys there that night who could have won but I was the one who did."
He owns two more wins at El Caso County and a pair at I-76. Smith has a couple top five finishes to show for his outings at Nebraska's Dawson County Raceway and says that venue ranks among his favorites as well.
"I like how fast it is and how clean everybody races there," Smith explained. "Chad Dolan does a great job promoting."
Buddy Tanner Clough has already shared tips on what to do, and what not to do on track at Boone and Smith has been watching replays of previous broadcasts of America's Racin' Vacation to learn as much as possible.
"One of the things I'm looking forward to is all the people you get to meet," he said. "We want to go to Boone, do our best and have fun."