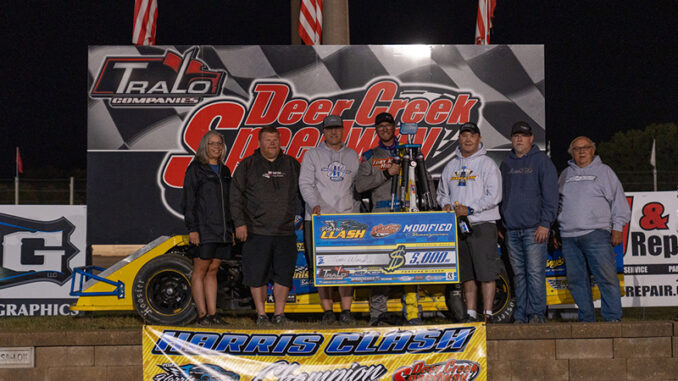 SPRING VALLEY, Minn. (Aug. 8, 2023) – Tim Ward wasn't even sure if he made the main event field the first couple times he tried to qualify for the Harris Clash.
For sure, he won't forget how he finished at the 32nd annual special for Friesen Performance IMCA Modifieds.
Ward led the last five times around the track in winning Tuesday's main event at Deer Creek Speedway, on the first night of IMCA.TV Speedweek.
"This win was huge. It's so tough to win here," Ward said after the $5,000 checkers flew for his 19th victory of the season. "It's something we've always looked forward to being able to do."
The Clash brought nearly 130 entries to Spring Valley for IMCA's longest-running one day event. Pole starter Cody Laney led the first two of 30 Modified laps before giving way to Brandon Beckendorf.
What proved to be the only caution of the contest came on lap five. Austen Becerra and Jacob Hobscheidt chased Beckendorf past midway, with the ninth starting Ward making his way to third on lap 16 and to second on lap 21.
The front three cars had pulled away and ran with lapped traffic before Ward made his charge to the front.
Beckendorf was unable to find a faster lane and answer, settling for second. Becerra, Cody Thompson and Belec rounded out the top five. Ward, now Fast Shafts All-Star Invitational qualifying eligible 17 times over, also pocketed an $800 bonus from the TraLo Companies, $100 for each position advanced from his original starting spot.
A driver from Kelley, Iowa, took home the biggest share of green by continuing the recent string of first-time Friesen Performance IMCA Northern SportMod winners.
Cam Reimers led all 25 laps of a caution-free feature, beating first-time Harris Clash entry Matt Looft to the $2,500 checkers by just less than two seconds.
"This is one of the biggest races for Northern SportMods," said Reimers, adding plugs for event promoter Bob Harris and Bob Harris Enterprises. "I'm really happy. There are no slouches when you look at who's won this race."
Third through fifth places went to Logan Anderson, Joe Docekal and Colby Fett.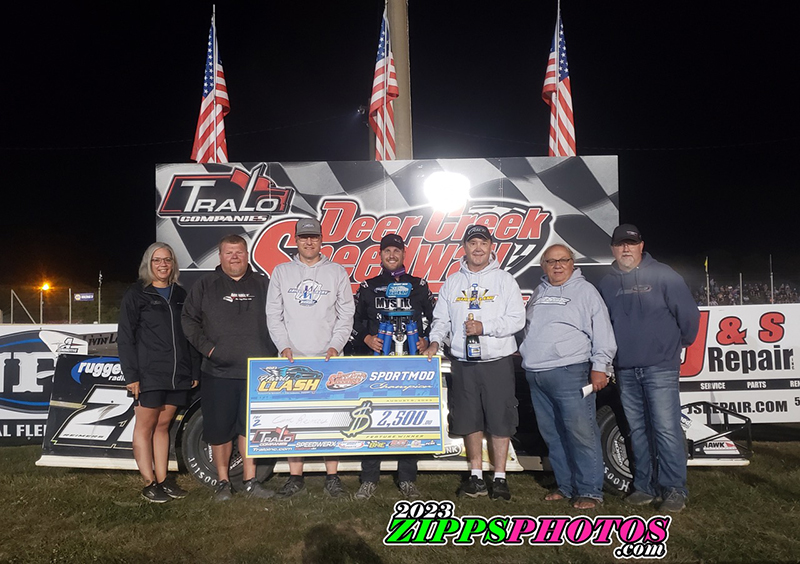 Cam Reimers led start to finish in winning the Harris Clash feature for Friesen Performance IMCA Northern SportMods. The 25-lapper ran green to checkers. (Photo by Jim Zimmerline)
Richie Gustin took home $1,000 for his third Modified Race of Champions victory. He'd also won the 2018 and 2021 ROCs.
"It's been a struggle this season but we're making strides," he said. "We're happy to be standing here for sure."
Another $5,000 to win show for the Modifieds is on the docket Wednesday, Aug. 9 when Hancock County Speedway at Britt, Iowa, hosts Night of 10,000 Stars. IMCA Sunoco Stock Cars, Friesen Performance IMCA Northern SportMods, IMCA Sunoco Hobby Stocks and Mach-1 IMCA Sport Compacts complete the draw/redraw card.
Speedweek continues with Thursday's Larry Evers Fair Street Face Off at Kossuth County Speedway in Algona, Iowa, and Friday's Night of 1,000 Stars at Britt.
Each race program will be broadcast by IMCA.TV.