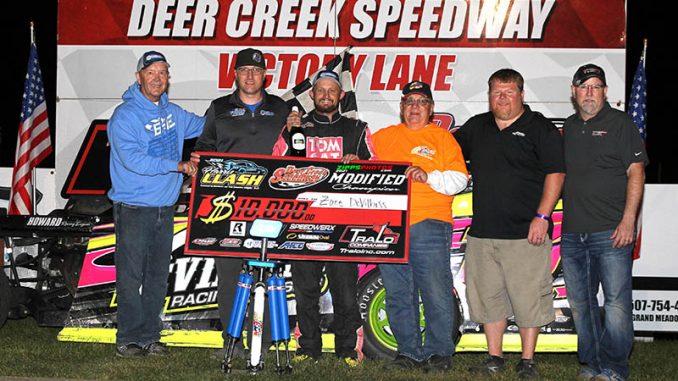 SPRING VALLEY, Minn. (Aug. 3) – Zane DeVilbiss had his eye on the custom trophies made for the 30th annual Harris Clash before the first green flag flew Tuesday night.
After taking the final checkers of the night, DeVilbiss left Deer Creek Speedway with that hardware and a career-best $10,000 payday after leading all 30 laps of an IMCA Modified main event that played out in front of a packed grandstand.
"This is the breakthrough we were looking for on this little tour," said DeVilbiss, from Farmington, N.M. "We've had a good car the last few weeks and it's awesome to be here."
"I saw all those cool trophies Chad (Wehrs) was building and said 'Man, I'd better get out there and try to win one of those,'" he added.
DeVilbiss drew the pole start and pulled away following back-to-back cautions on lap two. He led Nick Meyer and then Jacob Hobscheidt during a long green flag run, catching up with the back of the field just after midway of the 30-lapper.
Jordan Grabouski had motored from 12th to the runner-up spot before the final yellow erased DeVilbiss' three second advantage with four laps to go.
"I was having flashbacks," DeVilbiss said later from victory lane. "We were here at Deer Creek once before five or six years ago and I was leading a qualifier on like lap 27. We get the yellow on lap 27 and I said no, not tonight. I just told myself to do my thing and not worry about anybody else and everything would work out."
The feature win was the eighth of the season and career 196th for the two-time IMCA national champion.
"It was like a dream race. The car was so easy to drive and once we got rolling after those early cautions I was having fun," said DeVilbiss, already Fast Shafts All-Star qualifying eligible. "The Harris Clash is an unreal event and everything just lined up for me tonight. This event is really prestigious and Deer Creek is a track that just fits my driving style."
Grabouski, Hobscheidt, Jesse Sobbing and Nick Meyer rounded out the top five. Jeff Larson accepted the Speedwerx TraLo redraw challenge but came up short in his attempt to earn the $10,000 feature win bonus after starting and finishing eighth.
Cayden Carter led the last nine of 12 laps in repeating as winner of the Wehrs Machine and Racing Products Modified Race of Champions.
That victory came ahead of Jared Van Deest and Jake McBirnie and paid $1,000.
The Clash brought 125 IMCA race cars in two divisions to Spring Valley for the second night of IMCA Speedweek.
Rocky Caudle led every time around the track in a 25-lap feature for Karl Kustoms Northern SportMods, outrunning Izac Mallicoat in a green, white, checkered finish before telling boss and event promoter Bob Harris he wouldn't make it in to work on Wednesday.
Caudle was running with lapped traffic before that late caution, then beat the rookie Mallicoat, still a week and a half shy of his 15th birthday, across the stripe by more than half a second.
"What an awesome race car. What an awesome race track. What an awesome facility," Caudle said following the $2,000 checkers. "This is the first time I've ever raced here. It was awesome."
Tyler Watts, Hunter Longnecker and Johnathon Logue completed the top five following post-race disqualifications of Brandon Spanjer and Troy Hovey for carburetor infractions.
Chasing a potential $3,500 Speedwerx TraLo bonus, Logue raced his way back to fifth after restarting at the back of the field following an early spin while running fourth. Alec Fett drove from 19th starting to sixth, Brayton Carter from 24th starting to seventh.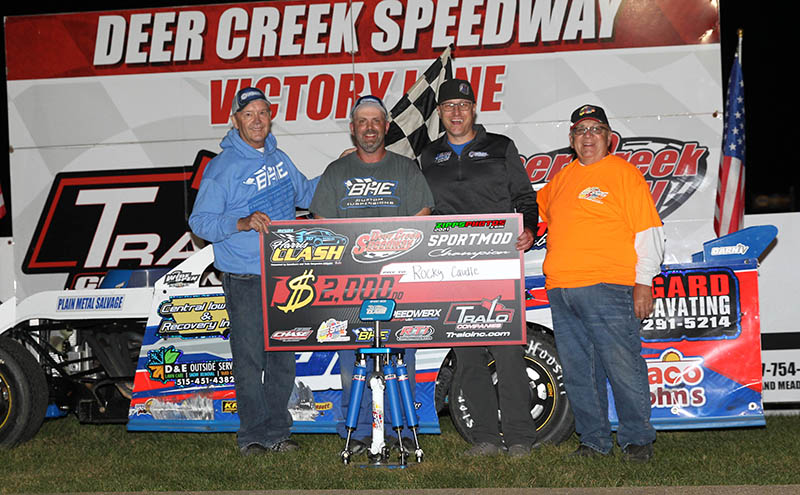 Rocky Caudle was the Harris Clash Karl Kustoms Northern SportMod winner in his first-ever visit to Deer Creek Speedway. (Photo by Jim Zimmerline)
The third installment of Speedweek sees IMCA Modifieds, IMCA Sunoco Stock Cars, Karl Kustoms Northern SportMods and IMCA Sunoco Hobby Stocks in $1,000 to win features Wednesday at Buena Vista Raceway.
Hot laps are at 7 p.m. with racing to follow. The BVR show will be broadcast by SPEED SPORT.TV affiliate Advantage.TV.
Feature Results
Modifieds – 1. Zane DeVilbiss; 2. Jordan Grabouski; 3. Jacob Hobscheidt; 4. Jesse Sobbing; 5. Nick Meyer; 6. Cayden Carter; 7. Richie Gustin; 8. Jeff Larson; 9. Tripp Gaylord; 10. Dakota Sproul; 11. Shane DeVolder; 12. Cody Thompson; 13. Jeff Aikey; 14. Jake McBirnie; 15. Brent Dutenhoffer; 16. Kollin Hibdon; 17. Brian Osantowski; 18. Clint Wendel; 19. Tom Berry; 20. Rodney Sanders; 21. Dylan Thornton; 22. Jared Van Deest; 23. Lucas Lamberies; 24. Joel Rust; 25. Ethan Dotson; 26. Cody Laney; 27. Steven Bowers Jr.; 28. Tim Ward; 29. Matthew Meinecke.
Race of champions – 1. Cayden Carter; 2. Jared Van Deest; 3. Jake McBirnie; 4. Jesse Sobbing; 5. Cody Thompson; 6. Ethan Dotson; 7. Joel Rust; 8. Richie Gustin; 9. Mark Noble; 10. Jeremie Hedrick; 11. Doug Smith; 12. Kelly Shryock.
Northern SportMods – 1. Rocky Caudle; 2. Izac Mallicoat; 3. Tyler Watts; 4. Hunter Longnecker; 5. Johnathon Logue; 6. Alec Fett; 7. Brayton Carter; 8. Jake Sachau; 9. Jeffery Teske; 10. Cory Pestotnik; 11. Jared Boumeester; 12. Greg Elliott; 13. Christian Sylvester; 14. Chad Ryerson; 15. Zach Davis; 16. Logan Anderson; 17. Kevin Johnson; 18. Taylor Kuehl; 19. Joe Docekal; 20. Connor Vande Weerd; 21. Vern Jackson; 22. Austen Becerra; 23. Dylan VanWyk; 24. Michael Johnson.