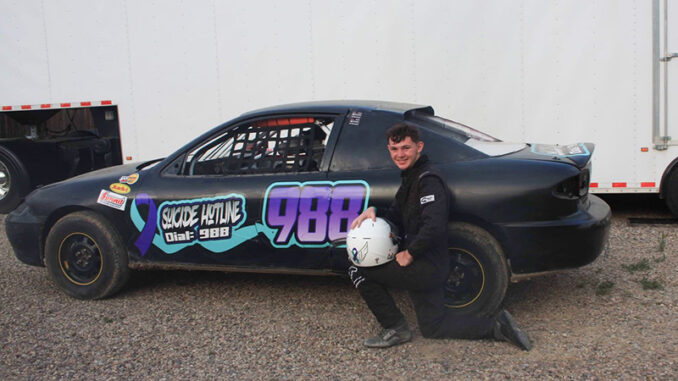 ROCK SPRINGS, Wy. (July 31, 2023) – The goals of every race car driver are to win races and championships.
Kaden Wright wants to do more than that this season.
The second-year Mach-1 IMCA Sport Compact driver is racing to promote suicide awareness and mental health awareness, a campaign he's taken to the track at hometown Sweetwater Speedway.
Seventeen years old and a senior-to-be at Rock Springs, Wy., High School, Wright has changed his number from 83K to 988, the three-digit dialing code that routes callers to a nation-wide suicide and crisis lifeline, with a new, attention-getting bright purple and teal color scheme to his car as well.
"The reaction has been very welcoming. We have had a lot of people, some of them people I'd never met before, thank us for doing this and tell us it was important," said Wright. "There have been kids who have told me they've been able to talk more about their problems."
"If we can keep one person from taking their life, we've accomplished something."
Candid about his own mental health issues, Wright decided to race with and promote the suicide awareness and mental health themes after a friend took their own life.
"It's been something that became easier to talk about because I had my family, friends and girlfriend to talk to," Wright said of the attention deficit disorder and resulting stress he'd previously struggled with alone. "A good start was that I was able to talk more to people about it."
Grandmother Lisa Newell is a therapist and among the sponsors of the no. 988 car. Wright's family has been part of Sweetwater Speedway virtually from day one at Rock Springs, his father Jason, uncle Justin and grandfather Kevin all preceding him with IMCA and all with 83 numbered cars.
"It was definitely a shock to a lot of local fans at first and definitely an eye opener when we changed our car number, but it also helped us stand out a little more," said Wright, who adds a Sweetwater Speedway schedule to the suicide prevention information, 988 sticker and awareness bracelet given away during area parades. "It's fulfilling to have so much support and be able to help the community like we are."
"I definitely think everything we've done has been worth it," he added, noting the greater mental health needs in states with more open space and smaller populations. "More people think this has become easier to talk about, and that's very important."
After graduating from high school, Wright plans to pursue a career in law enforcement and hopes to serve on the Rock Springs Police Department with his father.