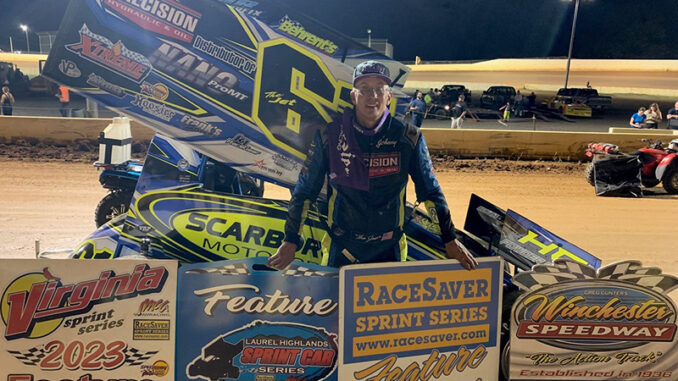 By Jim Haines
WINCHESTER, Va. (July 29, 2023) – John Scarborough had a perfect night Saturday, winning his heat and taking the top spot of the feature at Winchester Speedway co-sanctioned by the Virginia Sprint Series and Laurel Highlands Sprint Series.
Twenty-four IMCA RaceSaver Sprint Cars signed in on what turned out to be a breezy, nice evening.
Scarborough and Ryan Lynn paced the feature to green with Scarborough staying low and leaving Lynn to deal with a charging Donnie Hendershot. The track was full of cars and traffic came in to play quickly, bunching up the frontrunners.
Scarborough stayed low and worked his way through but not without Hendershot and Lynn staying right on him and sometimes next to him.
Hendershot made a run for the lead after getting by Lynn but a yellow for a stalled car slowed the pace. With two to go, Scarborough took off and Hendershot was not able to keep Lynn behind him as retook second and laps ran out to make a charge as Scarborough flashed under a waving checkered flag.
Lynn, Hendershot, Alyssa Rowe and Dylan Shatzer completed the top five.
The two groups will make the trip back to Hagerstown Speedway in Maryland for another co-sanctioned race on Saturday, Aug. 5.