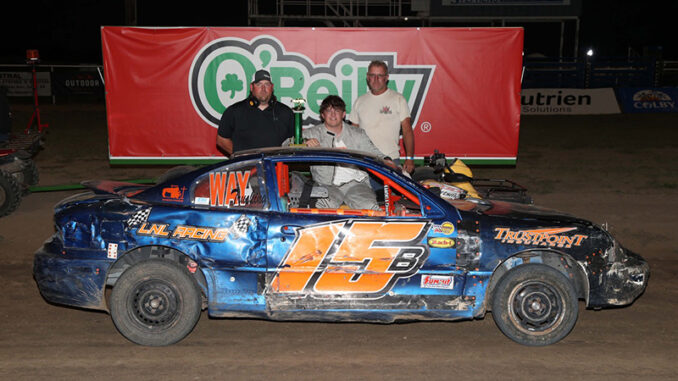 IMPERIAL, Neb. – He'll pack his bags and go to college to start his study of business this fall, but for Brock Leibhart the business at hand remains winning Mach-1 IMCA Sport Compact features.
After a slow start, the 19-year-old from Imperial, Neb., clicked off three wins in five outings, bookending checkered flag runs at Thomas County Speedway around a win at Phillips County Raceway.
"This year I set my goal as eight wins to see if I could double what I did last year," said Leibhart, who uses a wheelchair as a result of a 2021 auto accident and races using a set of hand controls he and his father Dan came up with. "We had a slow start to the season because we had to get some things figured out on the car but I think eight wins is still possible this year."
The first in his family to race, Leibhart caught the bug early and enjoyed the sport as a spectator. He worked for Scott Bussell, father of Friesen Performance IMCA Modified driver Justin and who has helped with fuel costs, before buying a Sport Compact late in 2020.
"We had been looking for a class for me to start in and the car was race-ready when we bought it," said Leibhart, prefacing what would become a 4-cylinder ride combining a 5-speed transmission and hand-controlled clutch, brake and accelerator. "My dad and I tried different things out until we found something that worked and we have been fine tuning since."
"I knew we had a car last year that was capable of winning," he continued. "To me, our best win wasn't the first one but when we won at Goodland against a bigger field. "It was nice to see my dad and my whole family so happy, with all the hours he has put in on the car and how it paid off."
He's bound for Southeast Community College in Lincoln and plans to come home on the weekend to race as often as possible this fall.
"One of my favorite things about being in a Sport Compact is the group of guys I race with. We all get along, we race each other clean and we're like a family," Leibhart said. "There are five or six of us who race at RPM Speedway who pit together. We're like a race family and that is one of the best things."