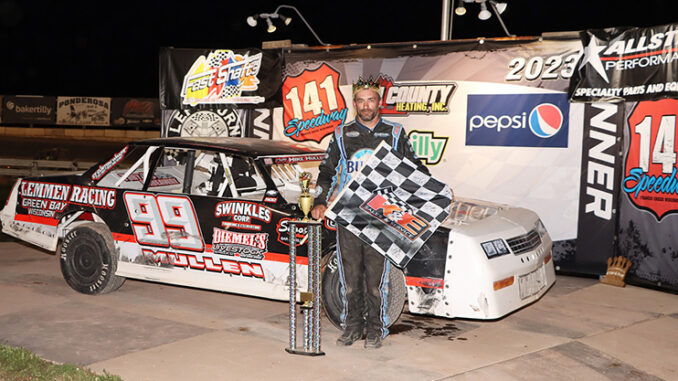 FRANCIS CREEK, Wis. (July 19, 2023) – Mike Mullen kept his focus on what was happening on the track and not on the leader board late in 141 Speedway's King of the Creek finale.
As a result, the two-time race runner-up became a second-time winner of the IMCA Sunoco Stock Car special at Francis Creek, earning $10,000 for his start to finish run at the front of the 50-lapper at Francis Creek.
2021 and 2022 King of the Creek winner Benji LaCrosse was close behind, racing from 15th starting to just half a second off the pace at the checkers.
"I don't think we had the car as good as it could have been but we did our best all 50 laps," said Mullen, who had finished third and then second in his Tuesday night heats and started pole in the main event. "We had some early yellows, then a long green flag run, and I didn't look at the board the last five laps."
"I didn't want to get snuckered up on again. I'm glad I was able to hold him (LaCrosse) off."
Also a two-time winner of 141's Clash at the Creek special for Friesen Performance IMCA Modifieds, Mullen had earned $5,000 for his first King of the Creek victory in 2019.
"We don't have a lot of nights in the Stock Car this season," said Mullen, who earned a guaranteed starting spot in the B & B Racing Chassis All-Star Invitational with the big money win. "It definitely isn't easy to come in and win a race like this with a lot of guys who have 30-40 starts this year."
Completing the top five were Kenny Richards, Nick Strobbe and hard charger Alex Crapser, who came all the way from 21st starting.
With more than 70 entries for the sixth annual Appleton Camping Center-sponsored special, Badger State drivers went above and beyond in defending their home turf, filling 21 of the 24 starting spots in the main event. The top finishing out-of-stater was Iowan Jeff Mueller in seventh.