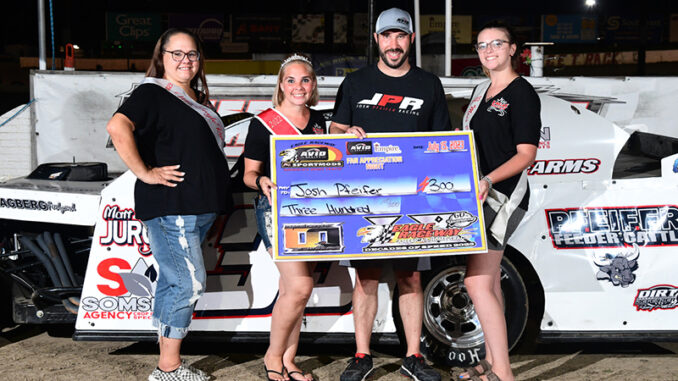 By Greg Soukup
EAGLE, Neb. (July 15, 2023) – Josh Pfeifer had a first-ever Eagle Raceway feature win to celebrate Saturday night.
The St. Paul speedster took the lead on lap four and outran Trevor Noonan and Noah Williams to the Friesen performance IMCA Northern SportMod checkers.
"This was my first win here at Eagle. Several years ago, I was close here. I've kind of just faded out of racing the past few years and haven't raced much," he said. "We came out last week and I debated whether to come tonight or not. I just had a different kind of feeling all week and usually when you get that different kind of feeling and you're getting in a race car that's a good sign."
"Right at the beginning I slipped back a few spots and I'm like 'Man, I've got to change my driving style a little bit or it's just going to keep being more of the same'. So, I tried slowing up my entry and tried sneaking around the bottom a little bit," he continued. "I talked to the guys at BHE before the race. They were giving me some ideas and we made a few small changes and that was enough. Most of all I want to thank my family who have supported me forever. We're just a small family racing team, small farm, small town. We get out on the road when we can, try to be presentable and be fast when we're there."
Tyler Drueke had quietly been working his way forward from his 17th spot on the IMCA RaceSaver Sprint Car starting grid after transferring from fifth starting the 'B.'
He got up to fourth with 10 to go and moved up to third three laps later. Drueke again advanced one position with three circuits remaining, taking second from Nathan Weiler who fell to third. He continued his pursuit of Gene Ackland and managed to squeak past him on the final corner for the victory.
"Starting in the back you have to just charge hard. Put your head down and your foot down and go as hard as you can," Drueke said. "It helps if the car goes into the corner and comes off the corner. You can manipulate it and do things to help yourself. The track got slick and widened outs and slowed down enough that guys started moving around."
Last week's runner-up Cole Wayman was the Friesen Performance IMCA Modified winner while veteran Roy Armstrong ended a racing drought with the IMCA Sunoco Hobby Stock checkers.
And Dillon Richards passed Matt Boucher with six laps left for his fifth, and first since June 3, IMCA Sunoco Stock Car feature win of the season.